Fujinon VariZoom Lense Controller : VZRF100

Current Price:

126.65 USD

Ends:

April 11, 2019, 19:31 UTC

Click here to bid on this item.
NOTE:
For US Protectorates Shipping including: American Samoa, Guam, Mariana Islands, Marshall Islands, Micronesia, Palau, Puerto Rico and U.S Virgin Islands.
We will be happy to help you with your order, Please contact our Sales Representative Alexander at (512) 219-7722 EXT. 904
****WE WILL FILL OUT THE WARRANTY FOR YOU****
QUESTIONS? Feel free to call VariZoom Offices Direct (512)-219-7722 EXT. 905 Monica
Made In The USA Since 1996
You can always check out our website Varizoom.com
DESCRIPTION:
Our most affordable control for 8-pin Fujinon professional lenses. The pressure-sensitive rocker allows fine control over zoom speed, while the record and return buttons allow you to remotely trigger the camera and review recorded material.
The VZRF100 is our basic 8-pin Fujinon zoom control. With its high-sensitivity rocker, precise repeatable zooms are easily achieved. Perfect for tripods, stabilizers and shoulder supports.
Pressure-sensitive zoom rocker
Low profile record/pause button
Video return button plays back the last 5 seconds of recorded material
Rubber lined clamp for easy tightening
VariZoom is the world's largest manufacturer of lens controls with the widest variety of controls offered anywhere. Our controls are used by CNN, CSPAN, National Geographic, and many others.
Backed by our 30 day money back guarantee and full 2 year warranty.
SPECIFICATIONS
Compatibility
Chart Located on the Fujinon Broadcast Lens Controls Page
Warranty
2 years parts/labor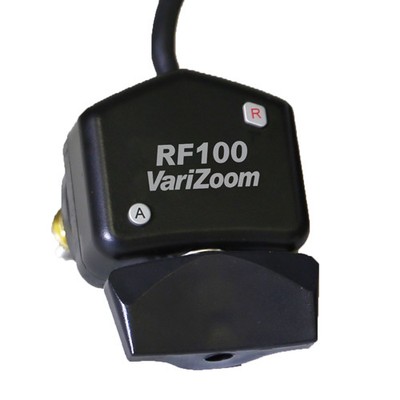 To bid on or purchase this item click here.