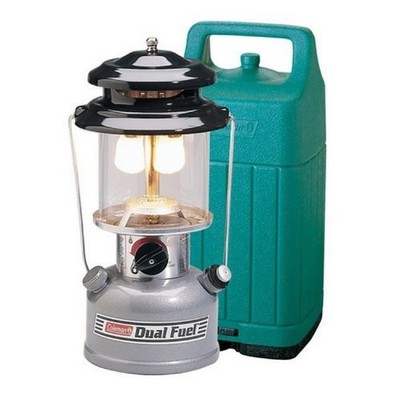 Coleman Premium Dual Fuel Lantern with Hard Carry Case
Product Features:
Brand - Coleman
Model - 3000000945
Color - Gray/Black
Item Dimensions - H 6 inches L 16 inches W 14 inches
Extra-bright 700 lumens on high
Adjustable dimmer knob for the perfect outdoor light
All-Season StrongTM fuel design for incredible light in frigid conditions
Dual FuelTM power runs on Coleman® Liquid Fuel or unleaded gasoline
7-hr. runtime on high using one tank of fuel
Two-mantle lighting
Hard carry case for protected carrying and storage
3-year limited
Made in USA of US & foreign components
Listing Created by newyorq , 92.8000+ .
Product Description:
Carry a bright light with fuel versatility when you pack a Coleman Premium Dual Fuel Lantern with hard carry case. This outdoor companion runs on either Coleman Liquid Fuel or unleaded gasoline. The Dual Fuel design is less expensive to run, because it uses less fuel than propane-powered lanterns. It's also more reliable, with better dependability in the coldest conditions. One tank of fuel will power the lantern for up to seven hours on high. Find just the right light with an adjustable knob that allows you to dim the brightness level from its highest at 700 lumens to as low as you need it. This two-mantle lantern is perfect for camping, hunting, tailgating and in cases of emergency. It includes a 3-year limited .
Don't sit in the dark when you can light up your world. The Coleman 285-748T Two-mantle Dual-fuel Lantern with Hard Case is just the thing you need to illuminate your camp site. This lantern has a fuel capacity of 1.3 pints and uses Coleman number 12 mantles. You can depend on seven to 14 hours of burn time and the durable carrying case features a tough, double-wall construction.