WE ARE AN AUTHORIZED SUPER-SENSITIVE DEALER
Super-Sensitive Red Label 4/4 Cello C String: Medium Gauge - Nickel Winding - Steel Core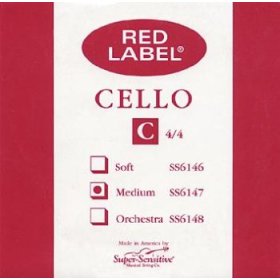 Super-Sensitive Red Label nickel wound steel core cello strings are among the most popular student strings. A solid steel core with nickel winding provides a quick and bright response, durability, and long life. Red Label strings are recommended by Suzuki Method instructors along with many music teachers. Made in USA.
This is a Red Label 4/4 Cello C String
Medium Gauge
Nickel Winding
Steel Core
Ball End
STCERED15_1NIB
We are Johnson String Instrument, a family owned and operated business that has served the string instrument community since 1976. We are committed to offering you the best products with outstanding service. We offer an incredible selection of instruments and thousands of music accessories for beginners to masters!
If you don't find listed what you're looking for or if you need expert advise about what instrument or accessory would be perfect for you, simply contact us and we will answer all of your questions fast.