Dr. Brown's Original Bottle Newborn Feeding Set 1 Set

Current Price:

27.03 USD

Ends:

April 26, 2019, 16:28 UTC

Click here to bid on this item.
Dr. Brown's Original Bottle Newborn Feeding Set
---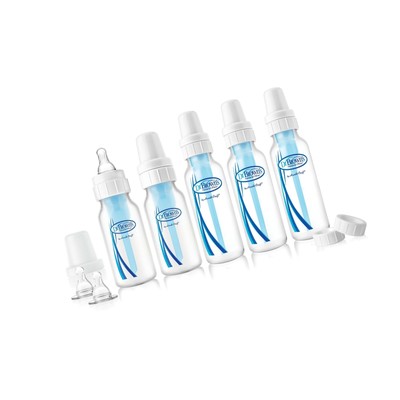 Description
Size:1 Set The Dr. Brown's Natural Flow Standard Baby Bottles offer a wonderful feeding experience with innovative vent technology. Dr Brown's bottles use a patented 2-piece internal vent system for your baby's comfort. This system creates positive-pressure flow for vacuum-free feeding that is similar to breastfeeding. The breast milk or formula flows freely without nipple collapse. As the baby feeds, air is channeled from the nipple collar through the vent system to the back of the bottle. Air never mixes with the breast milk or formula so oxidation is prevented, thereby maintaining essential vitamins such as C, A and E. The vent system eliminates air bubbles in the formula or milk, which helps to reduce feeding problems like colic, spit-up, burping and gas. Dr. Brown's bottles are completely BPA, PVC, lead and phthalate free for your baby's safety. The Newborn Feeding Set comes with 3 8oz/240ml Standard bottles, 2 4oz/120ml Standard bottle, 2 extra Level-Two silicone nipples, 2 Storage/Travel caps and 3 "cleaning" brushes are small nipple brushes and they are INSIDE the bottles. . Colic. The word strikes fear in the heart of any parent. This mysterious ailment seems to have its roots in the belly of the baby, although no one has determined for sure what causes these uncontrollable bouts of crying in newborns. However, it is certain that a baby with gas is an unhappy baby, and anything that alleviates that pain can only be a good thing. Enter Dr. Brown's Natural Flow Newborn Feeding Set. For parents who bottle-feed, for whatever reason, these specialized bottles may make the difference between a howling, gassy baby and one who is content and well-fed. What's the secret? Internal Vent Decreases Vacuum Effect A patented system enables babies to feed more comfortably because the built-in vent discourages ingestion of air bubbles. It also prevents the development of a vacuum, which helps reduce fluid in the ear. Ensuring that the milk in the bottle flows out through the nipple while the air is channeled through a tube to the other end also eliminates another unique problem of bottle-feeding: nipple collapse. The positive-pressure design mimics breastfeeding and can be used with breast milk or formula. In Plain English, Please The bottle prevents air bubbles from getting into baby's tummy. No Air Bubbles, No Gas And no gas, no colic…at least that's the principle. At a minimum, baby will be more comfortable while his digestive system develops. A Note to Parents The first time parents use the Natural Flow system, they will need to be very conscientious about reading and following the detailed instructions. No shortcuts, please! Washing the bottle parts carefully is always important, and resisting the urge to become cavalier about mixing formula, heating milk, or checking for tears or cracks is important to your baby's health and safety. Time spent attending to these details is well spent. What's in the Box? Dr. Brown's newborn feeding set includes everything needed to get started on the wonderful, ever-changing world of sustaining an infant (except the actual milk, that is): Three 8-ounce standard baby bottles, two 4-ounce standard baby bottles, five Level-One silicone nipples, two extra Level-Two silicone nipples (faster-flowing for the older baby), five 2-piece patented internal vents, two storage/travel caps, three cleaning brushes, and instructions. --Emilie Coulter See all Product description
Features:
Polypropylene, Silicone
Made in USA or Imported
Positive-pressure flow for vacuum-free feeding that is similar to breastfeeding
Reduces feeding problems like colic, spit-up, burping and gas
Vent system that removes air from milk maintains essential vitamins such as C, A and E
Helps prevent fluid in the ear
BPA, PVC, lead and phthalate free
Product Details:
Item Weight: 6.1 ounces
Product Dimensions: 4.1 x 6.9 x 8.8 inches
UPC
Item model number: 240-P6
Target gender: Unisex
Minimum weight recommendation: 1 Pounds
Maximum weight recommendation: 96 Pounds
Material Type: Polypropylene
Material free: BPA Free, Phthalate Free, PVC Free, Latex Free, Nitrosamine Free
Care instructions: Wash with warm soapy water before using
Number of items: 7
Batteries required: No
Dishwasher safe: Yes
Bottle nipple type: Traditional Silicone Nipple
Bottle type: Natural Flow, Vented, Anti-Colic
Specification met: No
Is portable: No
Shipping Weight: 1 pounds
Domestic Shipping: Item can be shipped within U.S.
International Shipping: This item is not eligible for international shipping. Learn More
Payment

PayPal is the only method of payment we accept. In regards to order cancellation requests, we will do our best to accommodate you however due to the logistics of our business model, we cannot guarantee that such a request will always be granted. In regards to sales tax, we have warehouse processing centers across the country to ensure you receive your package efficiently and as quickly as possible. As a result, we are required to charge sales tax in multiple states across the USA. If your state is one that we charge sales tax in, you will see the sales tax charge at time of checkout before you submit payment.

Delivery

We offer free standard shipping (transit time of 1-10 business days). Your order will be processed within 1-3 business days after your payment with either shipping option. Regardless of shipping date, you will receive it near the eBay estimated delivery date, almost always. We do not accept emailed requests to change shipping addresses. We do not ship to AK, HI, PO boxes, or APO addresses. We are not responsible for any incorrect or undeliverable addresses. We only ship to the confirmed Paypal address. Please note that manufactures update their packaging from time to time and that the packaging images shown in our auction may vary from what you ultimately receive however be assured you are receiving the identical contents you ordered regardless.

Return Policy

You may return new, unopened items within 30 days of delivery for a refund, and a restocking fee may apply. Items must be returned in the condition they arrived in. The box, UPC bar code, packaging, and all other accessories must be returned. Open software, music, games, movies, food items (human or pet, opened or closed), and personal hygiene products are not eligible for return. An RMA number is required for all returns. Message us for return instructions. Items returned without a RMA number will not be processed. Return shipping fees are not refundable. We reserve the right to decline any returns if the above guidelines are not followed.

Contact and Feedback

Do you have a question about an item or order? Contact us via eBay messaging and we will respond within 1 business day. Our office hours are 8AM-4PM PST Monday-Friday. We only respond to emails sent via eBay's messaging service.Invoices or special request are not guaranteed. We do not accept best offers on any items we sell. If there are any issues with your transaction please contact before leaving a neutral or negative feedback as we are certain we can produce an amicable resolution for the both of us. We would love to be given the opportunity to work with you to resolve any problem you may have.

| | |
| --- | --- |
| | |
To bid on or purchase this item click here.