OP/TECH USA 7801032 Fold-Over Pouch 253 (Black)

Current Price:

12.22 USD

Ends:

November 1, 2018, 19:12 UTC

Click here to bid on this item.
OP/TECH USA 7801032 Fold-Over Pouch 253 (Black)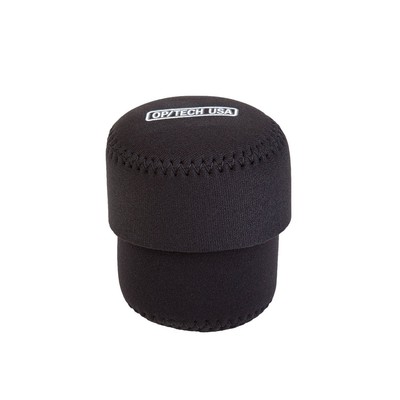 Size:253 OP/TECH USA's exclusive Fold-Over Pouch offers a convenient and easy way to store and protect small lenses, mounts, converters, adaptors and other miscellaneous items. The soft, durable neoprene construction protects delicate gear against dust, moisture and impact. The unique fold-over closure system has no abrasive hardware and remains attached to the main body at all times so there's no fear of losing it. It is available in several sizes to fit a wide variety of accessories. Choose the one that's best for you! The Fold-Over Pouch is available in the following sizes:251 - 2.5" dia. x 1.5" L (6,4cm dia. x 3,8cm L)253 - 2.5" dia. x 3" L (6,4cm dia. x 7,6cm L)254 - 2.5" dia. x 4.5" L (6,4cm dia. x 11,4cm L)301 - 3" dia. x 1.5" L (7,6cm dia. x 3,8cm L)303 - 3" dia. x 3" L (7,6 cmdia. x 7,6cm L)304 - 3" dia. x 4.5" L (7,6cm dia. x 11,4cm L)306 - 3" dia. x 6" L (7,6cm dia. x 15,2cm L)354 - 3.5" dia. x 4.5" L (8,9cm dia. x 11,4cm L)356 - 3.5" dia. x 6" L (8,9cm dia. x 15,2cm L)Lens Fit Range:251 - 2-2.5" (50-64mm) dia. x 1-2" (25,4-51mm) tall253 - 2-2.5" (5-6,4cm) dia. x 2.1-3.5" (5,3-8,9cm) tall254 - 2-2.5" (5-6,4cm) dia. x 3.6-5" (9,1-12,7cm) tall301 - 2.6-3" (66-76mm) dia. x 1-2" (25,4-51mm) tall303 - 2.6-3" (6,6-7,6cm) dia. x 2.1-3.5" (5,3-8,9cm) tall304 - 2.6-3" (6,6-7,6cm) dia. x 3.6-5" (9,1-12,7cm) tall306 - 2.6-3" (6,6-7,6cm) dia. x 5.1-6.5" (12,9-16,5cm) tall354 - 3.1-3.5" (7,8-8,9cm) dia. x 3.6-5" (9,1-12,7cm) tall356 - 3.1-3.5" (7,8-8,9cm) dia. x 5.1-6.5" (12,9-16,5cm) talldia. refers to the large diameter dimension of the lenstall refers to the overall length of the lens including the caps
Product Features
Make sure this fits. by entering your model number.
Soft, durable neoprene cushions your gear
Attached lid means that everything you need is handy, and nothing can get lost
Fits the popular mirrorless lenses and other small accessories
Lens Fit Range: Approx. 2-2.5" Diameter x 2.1-3.5" Tall (5-6,4cm Diameter x 5,3-8,9cm Tall)
Proudly made in the USA
---
Payment:
PayPal is the only method of payment we accept. If you have an order cancellation request, we'll do our best to accommodate your request however we cannot guarantee that such a request will always be granted. We have warehouse processing centers across the country to ensure you receive your package efficiently and as quickly as possible. As a result, we are required to charge sales tax in multiple states across the USA. If your state is one that we charge sales tax in, you will see the sales tax charge at time of checkout before you submit payment.
Shipping:
Standard shipping is free. Handling time on our orders is normally between 1-2 business days. Your order should reach your doorstep within 3 - 5 business days. Need your item quicker? We offer a faster shipping method for your convenience available upon checkout for an additional price of $1.99. Regardless of shipping date, you will receive it near the eBay estimated delivery date, almost always. We do not accept emailed requests to change shipping addresses. We do not ship to AK, HI, PO boxes, or APO addresses. We are not responsible for any incorrect or undeliverable addresses. We only ship to the confirmed Paypal address. Please note that manufactures update their packaging from time to time and that the packaging images shown in our auction may vary from what you ultimately receive however be assured you are receiving the identical contents you ordered regardless.
Contact Us:
Do you have a question about an item or order? Contact us via eBay messaging and we will respond within 1 business day. Our office hours are 8AM-4PM PST Monday-Friday. We only respond to emails sent via eBay's messaging service. Invoices or special request are not guaranteed. We do not accept best offers on any items we sell. If there are any issues with your transaction please contact before leaving a neutral or negative feedback as we are certain we can produce an amicable resolution for the both of us. We would love to be given the opportunity to work with you to resolve any problem you may have.
Returns / Concerns:
You may return new, unopened items within 30 days of delivery for a refund, and a restocking fee may apply. Items must be returned in the condition they arrived in. The box, UPC bar code, packaging, and all other accessories must be returned. Open software, music, games, movies, food items (human or pet, opened or closed), and personal hygiene products are not eligible for return. An RMA number is required for all returns. Message us for return instructions. Items returned without a RMA number will not be processed. Return shipping fees are not refundable. We reserve the right to decline any returns if the above guidelines are not followed.
Thank You For Your Business!

To bid on or purchase this item click here.