York Nordic Green Zen Trekking / Walking Poles - Made in USA - 2 Pack w/f... New

Current Price:

65.99 USD

Ends:

October 14, 2018, 22:09 UTC

Click here to bid on this item.
York Nordic Green Zen Trekking / Walking Poles - Made in USA - 2 Pack w/flip locks, detachable feet and travel bag
---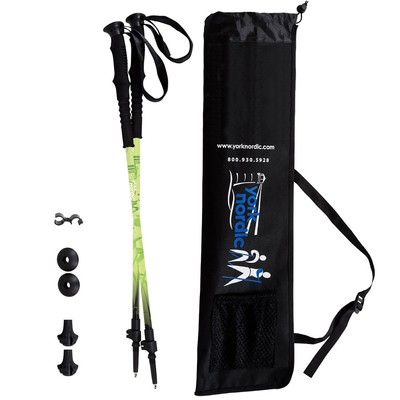 Product Details
Grip Type: Trek/Hike
Brand: York Nordic

Shipping Weight: 1.6 pounds
Includes durable Nylon Travel Bag
Made in USA
HIGH QUALITY US MADE: 2 pack of adjustable walking / hiking / trekking poles with your choice of Hiking/Trek or Nordic style grips and calming green Zen design. Better than walking sticks or canes. Makes a great gift for women or men.
ADJUSTABLE & COLLAPSIBLE: Telescoping poles adjust from 32" to 54" using exclusive flip lock - better than twist locks. Perfect for walkers and hikers. Fits heights from 5'4" to 6'6"
ULTRA LIGHTWEIGHT: Pairs are high quality aircraft grade 7075 aluminum with tungsten steel tip. Light and more stable than carbon fiber. Provides better stability when walking or hiking. Each pole only weighs 8 ounces!
GREAT VALUE: Includes 2 hiking poles, detachable rubber feet, snow baskets, and all fit in foldable free black nylon travel bag. Compare our quality and warranty to anyone - Black Diamond, Leki, Cane, Komperdell, Rei, 100% carbon fiber, Paria, Hunger Hiker, Montem, Cascade Mountain, Mountainsmith, BAFX, Foxelli, Bangail, TrailBuddy, Yukon or any walking pole or hiking stick. Nobody has a better warranty, service, or product support!
FROM YORK NORDIC: Top Rated for Customer Service, Best in Industry 5 year warranty, Free access to training videos. Passionate about walking, hiking, and getting out there! These poles are proudly created, designed, and made in USA. Sold worldwide
York Nordic poles are a high quality walking poles that combine innovative features with stylish design. Poles are made from high grade 7075 aluminum and feature our soothing Green Zen for the walking master in all of us.Poles adjust easily using our exclusive flip locks that quickly snap (and stay) in place. All poles come with a screw on 'basket' for snow and sand walking and have a sturdy tungsten steel tip. We've even included detachable rubber feet and free travel bag! Expand from 32 to 54 inches (81.3 to 137.1 cm) Weight: 9 oz each (1.8 as a pair) Your choice of 2 grip styles.Trek Grip: The contoured foam supports your hand and fleece lined strap provides great wrist support. Perfect for variable terrains. The bottom of the grip has an extended foam grip area that provides extra grip at a lower point on the pole for steeper trails. Nordic Cork Grip: Easy click out release glove style strap maximizes pole control and push while allowing you to quickly release from the pole when needed. Our grip is thicker than traditional Nordic grips making it more comfortable. Strap has a specially designed end that makes it easier to get the strap secured with less frustration. Every order includes free access to an online instructional videos.About York Nordic The Company was founded by certified Nordic walking instructor Lauren DeLong. Based on the seacoast of New England, the Company combines world class sports engineering with the unique design styles of our artists. All products are designed and manufactured in the US with US made and imported components. Final assembly is done in Portsmouth, NH.

To bid on or purchase this item click here.