Bill Hirsch Auto Gas Tank Sealer Repair Kit #BH-ARK

Current Price:

56.00 USD

Ends:

May 13, 2018, 13:47 UTC

Click here to bid on this item.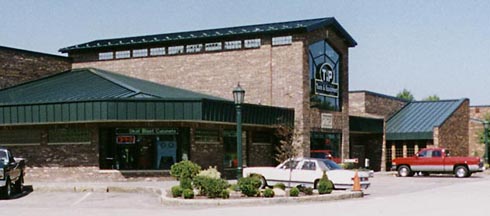 Welcome to TP Tools
TP Tools, Canfield, OH - Quality Restoration Tools & Equipment specializing in MADE IN USA Skat Blast Abrasive Sandblast Blasting Cabinets - everything for your restoration. Fast, INSTANT SHIPPING (Same Day - 48 Hours) - friendly service - that's a promise.
Bill Hirsch Auto Gas Tank Sealer Repair Kit #BH-ARK
---

Seals up to 30 gallon tank. Made in USA!

TP Tools is proud to carry the Bill Hirsch line of restoration paints. Bill Hirsch has been servicing the auto restoration market for over 40 years. His line of paints is considered to be the best available. You can feel confident you are getting a product that will keep your project looking beautiful for years to come!

Don't spend hundreds on a new gas tank! Automotive gas tank repair kit stops rust and seals leaks permanently! Resists all fuels, including alcohol and ethanol. Bonds to metal and fiberglass. Seals up to 30-gallon tank!

Kit includes: 16-oz Gas Tank Etch, 1-qt Gas Tank Sealer, 1-qt Miracle Heavy-Duty Marine/Industrial Cleaner & Degreaser, and Miracle Epoxy Putty for small holes. Detailed instructions are included to ensure a permanent repair of your tank. Made in USA. #BH-ARK.

STEP 1 - Miracle Heavy-Duty Marine/Industrial Cleaner & Degreaser - The best and safest cleaner of its kind on the market. Cleans out gummy fuel tanks. Works on all metals and fiberglass. Highly concentrated, non-toxic, non-flammable, biodegradeable. Rinses off completely with water.

STEP 2 - Gas Tank Etch - Removes light buildup of rust and etches the inside of the tank leaving a gray phosphate coating for the Gas Tank Sealer to adhere to.

STEP 3 - Gas Tank Sealer - Stops rust and leaks. Resistant to all fuels including alcohol and ethanol. Heavily compounded with rust inhibitors to prevent future rusting. Permanently bonds to all metal or fiberglass tanks. This is the only sealer on the market approved for use in aircraft. 1 qt seals up to 30-gallon tank. Easy to use - pour sealer in tank, slosh around to cover all surfaces, and pour excess out.

Miracle Epoxy Putty - Perfect for sealing holes in a gas tank where a larger than pinhole hole exists. Dries rock hard and can be sanded.

CAUTION - Respiratory Protection is required when painting. Not included.

CAUTION - Once dry, Bill Hirsch Paints cannot be removed by solvent. To prevent skin from staining, wear protective clothing and avoid contact with skin. If product does contact skin, remove immediately.

Bill Hirsch Motorcycle Gas Tank Repair Kit also available, see our eBay store.



---
SHIPPING INFORMATION - SMALL ITEMS

TP Tools Ships to US-48 STATES ONLY through our eBay Store.
WE DO NOT EXPORT
GROUND SHIPPING - Most small items ship by Standard Ground Service US-48 States only. Shipping charges are the Buyer's responsibility. See chart right for Shipping Charges. NOTE: Oversized or dimensional weight boxes will incur extra shipping charges. See Below.
COMBINED SHIPPING - You can save money when buying more than one small item, as we are glad to combine shipping. Your Ground Shipping Charge is determined by the merchandise subtotal of your order. The more you buy, the more you save on shipping. See chart right.
TP TOOLS SHIPS QUICK! Please provide a daytime phone number and your Paypal Confirmed Address for shipping, so your order will not be delayed.

WE CANNOT SHIP TO - a P.O. Box, APO/FPO address, Freight Forwarder, Shipping Company/Station, or any other address outside of the US-48 States through our eBay Store.

WE SHIP ONLY TO - U.S. PayPal Confirmed Addresses. (If not confirmed, payment will be refunded.)
99.9% OF ORDERS ARE SHIPPED WITHIN 24-48 HOURS of payment. Occasionally an item can be out of stock or oversold, as we also sell through our web site and retail store, and by phone and mail. If the item is out of stock or oversold, we will cancel the out of stock item and refund your PayPal account, if applicable. You will be notified by email.
GROUND SHIPPING RATES - Do not apply to heavy, oversize, motor freight, abrasive sandblast cabinets, compressors, abrasives, or items requiring extra shipping/packaging. A U.S. Zone Map will be shown in the eBay listing to denote these items, and a separate shipping charge will apply.
DIMENSIONAL WEIGHT SHIPPING CHARGES - Dimensional weight is calculated by the actual size of the shipping box your order is packed in. A box weighing 10 lbs could have a dimensional weight of 30 lbs depending on the item and box size. If your order has a dimensional box(es), you will be notified prior to shipping and extra shipping costs will incur. Dimensional shipping charges are imposed by the shipping carrier.
---
PAYMENT INFORMATION - U.S. PayPal Payments Only
U.S. PayPal PAYMENTS ONLY - TP Tools eBay Store accepts secure payments by PayPal from U.S.-registered PayPal accounts only. PayPal e-Checks are held until cleared. We only ship to U.S. PayPal Confirmed Addresses.
PAYMENT BY 7 DAYS - Payment must be received within 7 days after purchase. If payment is not made within 7 days, we will follow eBay procedures by filing an Unpaid Item Dispute.
SALES TAX - Ohio residents will be charged 7.25% sales tax on the total amount of merchandise and shipping charges. TP Tools collects state sales tax on purchases in Ohio. In any other state imposing sales or use tax, TP Tools is not obligated to, and does not, collect state sales tax on your purchase. For those states imposing sales or use tax, your purchase is subject to tax unless it is specifically exempt from taxation. Placing your order on the internet or by any other remote means does NOT exempt your purchase from tax. Certain states may require us to provide an annual notice of your purchases, and to notify your state tax department of your annual purchases. Details for reporting your untaxed purchases, filing a tax return, and paying any tax may be found on the tax department website for your state of residence.
ORDER CONFIRMATION - You will receive confirmation by email after your purchase.
TP TOOLS GIFT CERTIFICATES - are not redeemable through our eBay Store.
OFFERS - Sorry, we DO NOT accept offers.
---
CUSTOMER SERVICE, RETURNS & MISC. INFO
QUESTIONS - Due to our products being technical in nature, we encourage you to call between 9am-6pm ET Monday-Friday and speak to a product specialist for more information about product(s) of interest. Also, call if you have any questions regarding shipping, unloading, or payment. No Voice Mail - Live Operators!
CANADA, AK, HI, PR, and VI - We do not ship or sell to these areas through our eBay Store.
RETURNS - If you are not completely satisfied with any item, simply return it within 30 days. Please be sure item is in new, resalable condition in its original packaging and is returned to Tip Plus Corp prepaid. Paints, primers, activators, body fillers, abrasives, respirators, gloves, nozzles, and wear items are nonreturnable. Customer is responsible for shipping or freight costs both ways. Before returning item, please contact TP Tools Customer Service 9am-6pm ET Monday-Friday.
C.O.D. PACKAGES - Sorry, we do not accept C.O.D. Packages.
PRIVACY - We respect your privacy. TP Tools does not sell, rent, or lend its customers information. Your privacy and security of information is kept in strict confidence.
OOPS! - We make every effort to produce an error-free eBay listing. However, errors sometimes occur; and we are not responsible for typographical errors or misinterpretations of our eBay ad copy.
PRODUCT CHANGES - Due to a global market and manufacturer's changes, a product's country of origin, description, specs, photos, pricing, or shipping charges may change without notice. We reserve the right to correct our eBay listings as needed.
RIGHT TO LIMIT QUANTITIES - Products offered by TP Tools are not intended for resale or any other purpose. Accordingly, we reserve the right to limit quantities.
---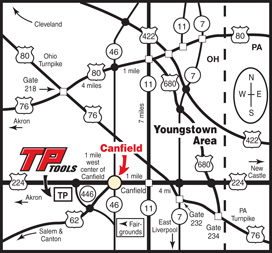 VISIT TP TOOLS CANFIELD, OH RETAIL STORE

Store Hours:
Monday-Friday 8:30am - 6:00pm ET
Saturday 8:30am - 3:30pm ET

TP Tools is located in Northeast Ohio, midway between Pittsburgh, PA and Cleveland, OH, just minutes off the Ohio/PA Turnpike. We are 1 mile west of the center of Canfield, on U.S. Route 224 at the corner of Rt. 446. If using Map Quest or similar map program for directions, use 7075 State Route 446, Canfield, OH 44406-9432.
To bid on or purchase this item click here.