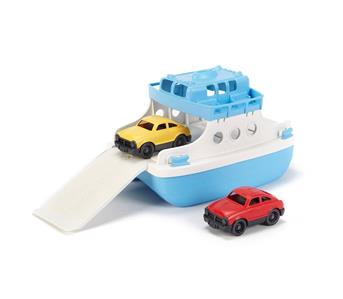 Description
Set sail with the Green Toys Ferry Boat for a quick bathtub excursion or an extended trans-pool voyage. Whatever the adventure, this two-story vessel is ready to hit the open water with room for eco-friendly cargo galore and even comes with two Green Toys Mini Fastbacks. Use the slide-out ramp to load up the spacious bottom level that accommodates up to four Green Toys Mini Vehicles or Fastbacks. The open top deck features two small benches on each side, as well as eleven windows looking down into the main level. Made in the USA from 100% recycled plastic milk jugs that save energy and reduce greenhouse gas emissions, this craft is ideal for any body of water – durable, buoyant and dishwasher safe. The hull also detaches for easy cleaning. No BPA, phthalates, PVC, or external coatings. Packaged using recycled and recyclable materials and printed with soy inks. Recommended for ages 3 and up. Dimensions: 10"L x 6.6"W x 6.3"H.

The Green Toys Ferry Boat sports a fun blue-and-white design and two colorful cars that will delight young children. It also features a spacious cargo area and a slide-out ramp. The open design also allows children to place action figures or other toys inside.Just like a real ferry, the toy is designed to float in water. The pontoon-inspired design keeps the vessel steady and helps prevent rolling. Your little one will love taking this boat for adventures and driving the included mini cars up and down the ramp during bath time or at the pool or beach. It is constructed entirely from recycled plastic milk jugs (HDPE #2 plastic), making it an environmentally responsible product. As sturdy and durable as toys come, it is designed to withstand active play. The packaging is also made from recycled materials and contains no plastic films or twist ties.
Use the Ferry Boat to teach your child about recycling, helping the environment, saving energy, and reducing greenhouse gases. By showing that environmental responsibility can be fun, you can encourage your child to protect and respect nature.


Condition: Brand New

Additional Information:
We strive to be as accurate as possible in our description, when listing each item we sell. We inspect each item for flaws and disclose any we find. If you have any questions, please contact us before bidding.
We are human and may occasionally miss a flaw. If for any reason you receive something not as listed, please contact us ASAP. Customer Service is very important to us and we want you to be happy with your purchase. If we make an error, we will try to make it right, but please remember, we can't help you if you don't let us know about it. Refunds are accepted on items significantly not as listed. Please contact us to make arrangements for return/refund.
Shipping:
We combine shipping on multiple item purchases.
As a NJ corporation, we strictly adhere to all state and Federal laws governing our business practices. We must disclose the true Customs value for international shipments. Buyer is responsible for any import, duty, or customs charges. We reserve the right to refuse to sell this item to buyers in certain locations, based on a country's import or shipping restrictions. If you are unsure whether an item can be imported into your country from the US, please contact us PRIOR to bidding.