Panasonic 100-400mm F/4.0-6.3 H-RS100400 VARIO-ELMAR Lens MANUFACTURER WARRANTY

Current Price:

1,797.99 USD

Ends:

April 6, 2018, 19:30 UTC

Click here to bid on this item.
# 855-622-RITZ (7489)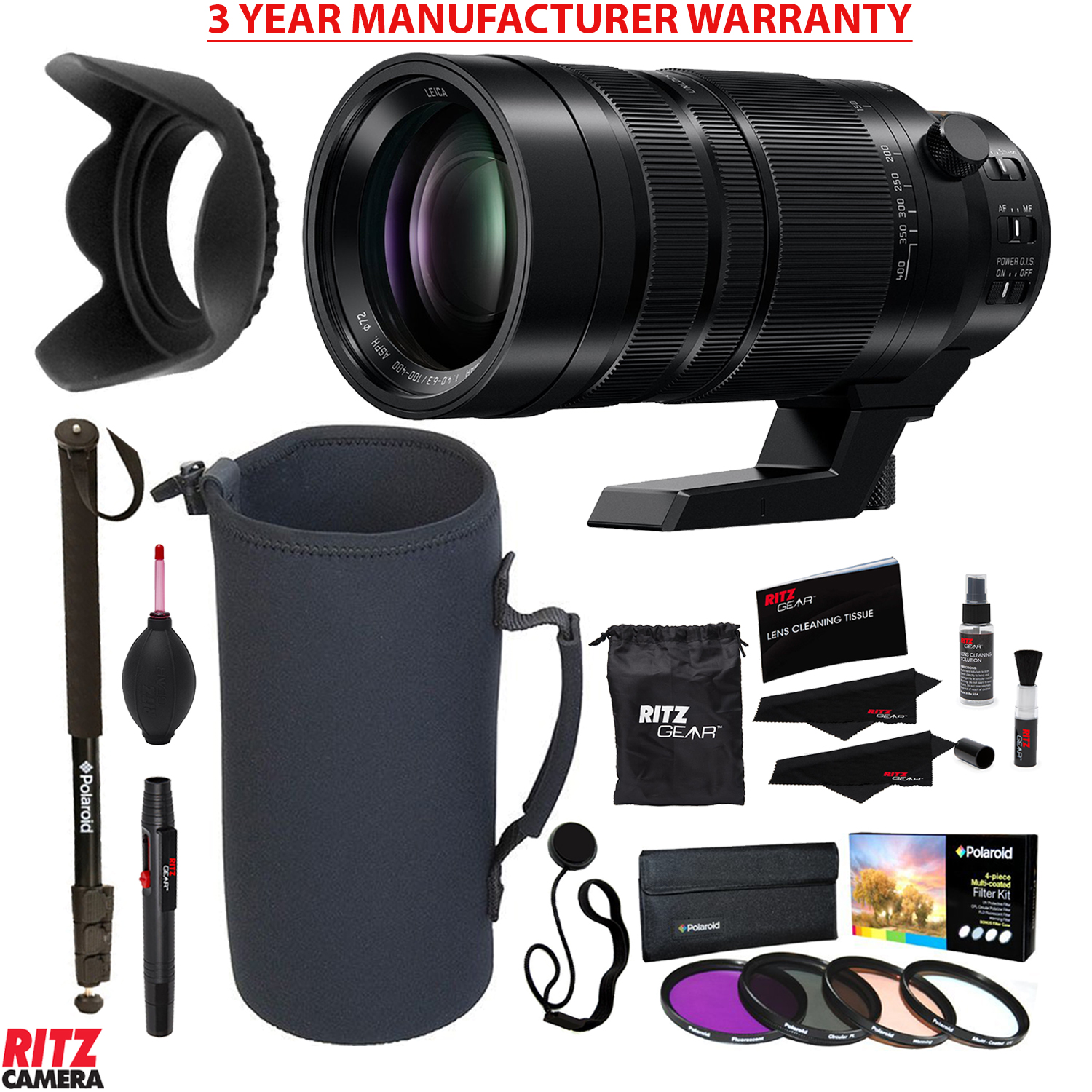 SKU : AMZPNHRS100400BEBAY
Description
Experience a Mirrorless Micro Four Thirds camera lens design with a significant reduction in size and weight. Up to two-thirds smaller and one-fifth the weight of comparable DSLR 35mm long zoom lenses
100-400mm F/4.0-6.3 LEICA VARIO-ELMAR high-performance lens for nature photography (200-800mm 35mm camera lens equivalent)
Ideally suited for the outdoors with a splash and dustproof sealed body. (When combined with splash and dustproof LUMIX G Mirrorless camera models)
Impressive image stability with integrated LUMIX Power Optical Image Stabilization (O.I.S) and LUMIX Dual I.S. camera compatibility
FREE Panasonic TRIPLE YOUR WARRANTY Bonus Offer, extends your 1 year warranty to 3 years -- Panasonic H-RS100400 LEICA VARIO-ELMAR Lens, 100-400mm F/4.0-6.3 RITZ CAMERA BUNDLE INCLUDES 10 ITEMS -- ALL BRAND NEW ITEMS WITH ALL MANUFACTURER-SUPPLIED ACCESSORIES + FULL USA WARRANTIES
FREE Panasonic TRIPLE YOUR WARRANTY Bonus Offer, extends your 1 year warranty to 3 years when buying your Panasonic camera from Ritz Camera between 4/1/2006 & 3/31/2017.

Panasonic LUMIX Mirrorless Micro Four Thirds lenses deliver a no-compromise approach to optical performance for modern interchangeable camera enthusiasts. As an optical partner of legendary LEICA Lenses, the LUMIX *100-400mm F4.0-6.3 Lens features the highest standards of detail and sharpness. Built for the outdoors, this lens features a splash and dustproof design when mounted on a compatible LUMIX G Mirrorless camera. With Dual I.S. (Image Stabilization) compatibility you'll shoot with unprecedented hand-held stability. Make the switch from bulky DSLRs to the smaller, lighter, more compact Mirrorless Micro Four Thirds system cameras and lenses from Panasonic LUMIX. (*200-800mm 35mm Camera Lens Equivalent)

Included in this Ritz Camera Bundle:
? 1) Panasonic H-RS100400 LEICA VARIO-ELMAR Lens, 100-400mm F/4.0-6.3 for Mirrorless Micro Four Thirds Cameras, Power Optical Image Stabilization, Splash and Dustproof
? 2) Polaroid Optics 72mm 4 Piece Filter Set (UV, CPL, FLD, WARMING)
? 3) Polaroid 72" Photo / Video Pro Ultra Heavy Duty Monopod For Digital Cameras & Camcorders
? 4) Ritz GearTM XX-Large Neoprene Protective Pouch for DSLR Camera Lenses
? 5) Ritz GearTM Premium 8-IN-1 Cleaning Kit For Cameras, Camcorders, SLRs, Lenses & Filters
? 6) Polaroid Scalloped Lens Hood 72mm
? 7) Polaroid Lens Cap Strap
PAYMENT & SHIPPING INFORMATION
Payment Options
We accept payment via PayPal.
If you have trouble completing payment via PayPal please contact our customer support team that will be happy to assist you.
For large value or wholesale orders, please contact us and request to be connected to our dedicated wholesale team.
Shipping
Free ground shipping on all USA orders (excludes Alaska and Hawaii).
Delivery options and estimated ship times in business days:
ABOUT US
The origins of Ritz Camera can be traced back nearly a century to 1918, when Benjamin A. Ritz established his soon-to-be famous portrait studio in Atlantic City's Ritz Hotel. The studio was an undisputed success, and Benjamin's visual talents could be seen in wedding, graduation and confirmation portraits around the city.
RETURN POLICY
Our customer service team is happy to assist you with any questions or concerns that you may have regarding your purchase. Please give us a call directly and we will do everything we can to resolve your issue. If for any reason you are not completely satisfied with a product, simply return it within 10 days for all Digital, Video and Wireless Phone products, 30 days for all other products, for a no hassle exchange or return. Please note regarding Electronics products, some require Return Merchandise Authorization (RMA), and some are non-returnable.
CONTACT US
Your feedback is important to us.
Customer satisfaction is our #1 priority. If for any reason you are not 100% satisfied with your purchase, please call our customer service team. We would be happy to assist you. Whether you`re satisfied or not, we encourage you to reach out to us and let us know. We take each and every comment seriously and work upon to improve your online shopping experience.
Please Call us @ 1-855-622-RITZ (7489)
To bid on or purchase this item click here.