Kramer Baretta 1985 Made In USA "Guitar Art": Skull and Rose - Lynch Mr. Scary

Current Price:

3799.00 USD

Click here to purcahse on eBay.
Kramer Baretta 1985 Made In USA "Guitar Art" Line: Skull and Rose - Original George Lynch "Mr. Scary"

This is a very unique, highly collectible Kramer Baretta made in the USA in 1985. This guitar was one of the limited custom graphic "Guitar Art" series Baretta's that Kramer had released in 1985. The vast majority of these early '85
Guitar Art
models were hand painted by two artists that Kramer had commissioned - Dennis "Kline" and another artists that goes by "Knapp". The particular artist that painted each
Guitar Art
model is typically easily distinguished via the artist's signature that was applied to the body of the guitar. As the story goes on this particular guitar goes (which was painted by neither Kline nor Knapp), Kline wasn't always the sweetest or easiest artist to work with and ended up getting temporarily "fired" at one point in early 1985. At the time, Kramer's other artist (Knapp) wasn't immediately available to complete the
Guitar Art
Baretta's that Kramer had on order and needed to complete. To finish the job (until Kline eventually returned), Kramer had commissioned a small, local group of artisans from nearby Coney Island (a.k.a. "Coney Island Artists") - one of which was assigned to hand paint this particular guitar. While George Lynch's Skull & Rose '85 Baretta (the original Mr. Scary guitar, which was later transformed into the MOM / Bones guitar) was painted by Kline, this guitar is arguably even more rare than any Kline-painted Skull & Rose Baretta, making it a very cool, collectible piece indeed! In very good cosmetic condition. Frets have even wear from decades of playing but still perform their job perfectly. Includes original Kramer Hard Shell Case and trem bar. Guitar is all original with no mods and has the sought-after Schaller "Golden 50" humbucker.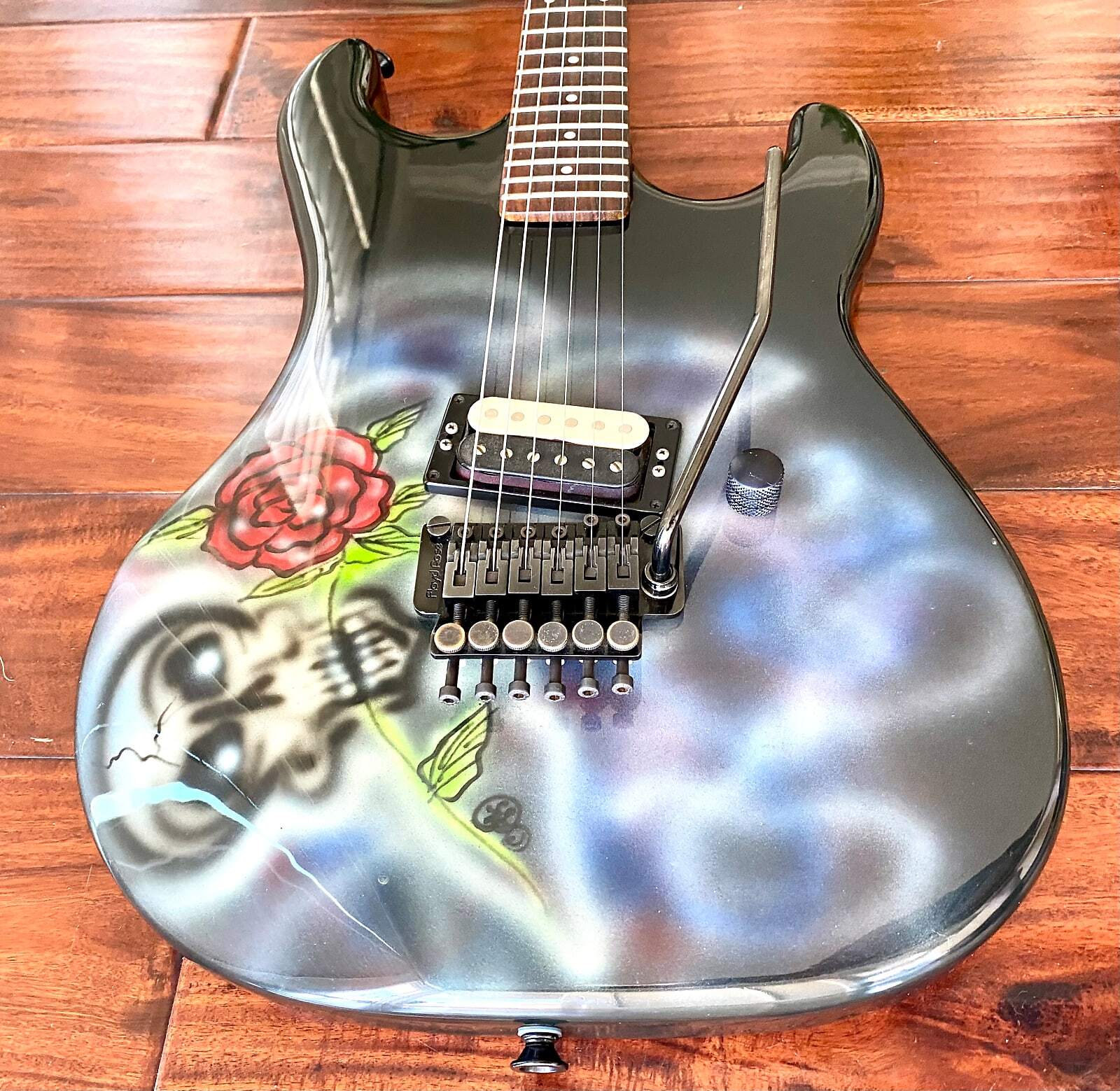 To bid on or purchase this item click here.