SNAP ON PH3045,PH3050,PH3050A,PH3050B AIR HAMMER TUNE UP KIT FOURTEEN PIECE LOT

Current Price:

38.50 USD

Click here to purcahse on eBay.

This ebay Buy-It-Now offering provides:

1) front shock isolator as PH3050-9.

1) throttle valve or trigger valve as IM3100-20.

2) valve seats as IM3100-22.

1) throttle valve spring as ME1A269 (an obsolete part no longer available from Snap on).

2) sets of paired body o'rings as:

ME7B17,

ME7B23J (an item now obsoleted and removed from the Snap on parts sytem), ME7B31 and ME7B68. 8 total.

1) replacement phenolic disc as PH3050-4 fitting Snap on PH3045, Snap on PH3050,PH3050A and Snap on PH3050B air hammers.




Advisory: The barrel nut is extremely difficult to unscrew on this tool and requires special tooling. If you don't have it and attempt the removal of the nut you will likely not succeed. I include the barrel isolator and disc because it was recommended that I do so when I first started to offer this kit on ebay. Your other option is to pay up $120 plus UPS charges and sales tax to the Snap on repair center near you. You will be out and down for about 2 weeks for the turnaround time. This is fair warning. It means that returns and refunds are not accepted for this item.

Snap on does not make this type of kit available. This deal is one kit for one B-I-N price.




I will not change any shipping addresses after the ebay thru Paypal checkout is completed. I will forfeit my seller protection from fraud if any case is opened against me AND I changed the address from the ebal sales order YOU CREATED. I have had many bogus unauthorized credit card cases filed with Paypal against me for ebay sales that are 100% covered. I must prove that I shipped the item to the sales order address of record only. Do not ask me to change any shipping addresses after you have paid for an ebay item. This is one reason why I have a no refund ebay policy. I would have to raise my prices to cover these costs and then deal with other ebay paying customers who argue with me about my shipping charges when I am competing to have the best price on ebay with the item I selling.

This throttle valve / trigger valve kit works to repair an air hammer that won't shut off when the trigger is released or passes air when the trigger is released. I include the obsoleted trigger valve spring, trigger valve and (2) valve seats in this offering. The extra valve seat should give the end user the part needed for another future field repair for this problem.




The shipping weight is 2 ounces with USPS first class. International buyers have this item shipped to Kentucky for additional processing costs through the ebay global shipping program.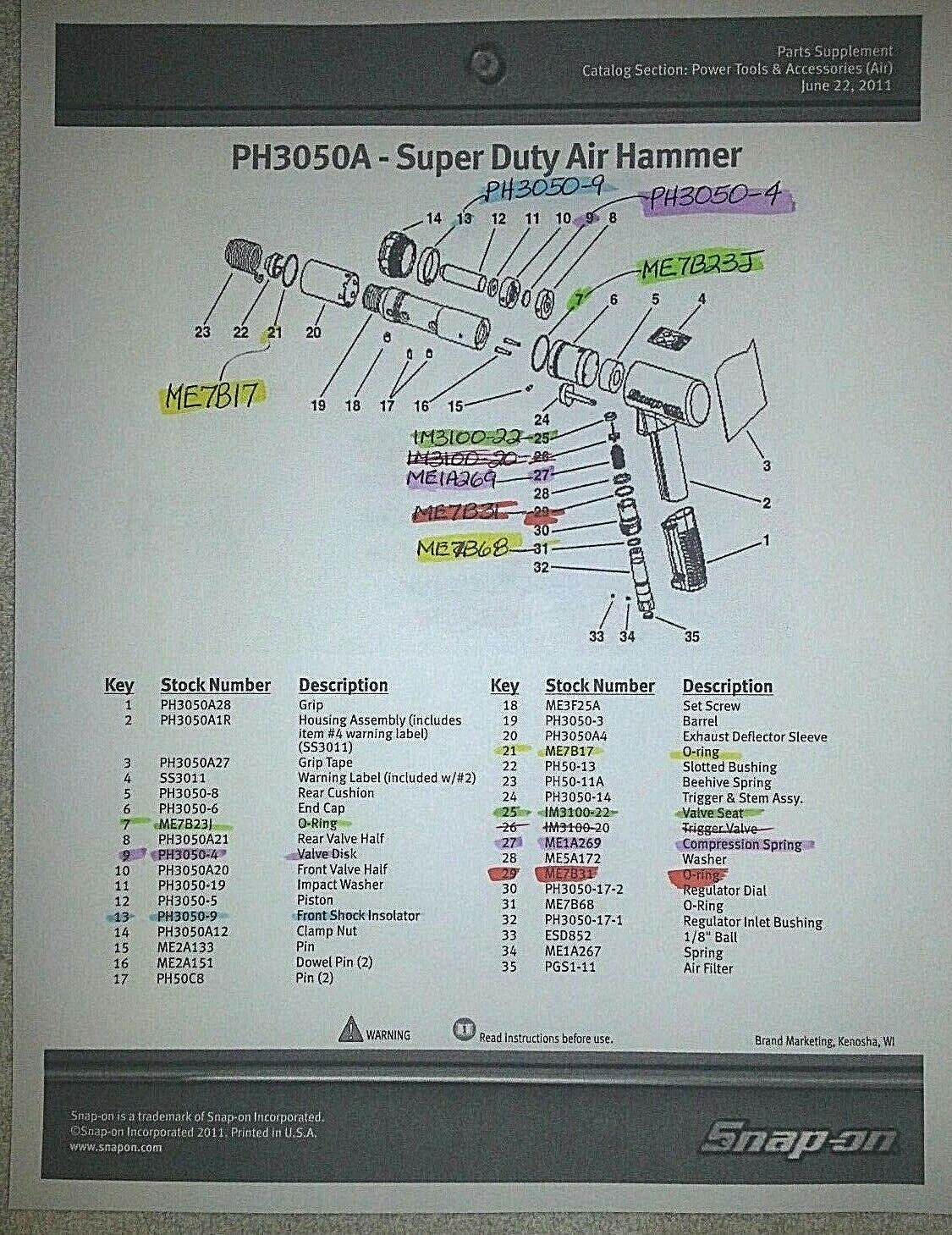 To bid on or purchase this item click here.