Vintage Hamer Californian Elite Flamed Maple Made in USA

Current Price:

3400.00 USD

Click here to purcahse on eBay.
Up for sale is a piece of now vintage history - Hamer Californian Elite Flamed Maple Made in USA. The guitar was built in 1992. So it's 30 years old. Cosmetics - guitar does not have any breaks or repairs. No chips or scratches into the wood. But it was played so you will find several indentations on the front and some worming on the back, but NONE thru the wood. It has OFR with short screws, so it works better than new should you pull up or dive down.
As you could see it has Hamer signature 3-piece neck, ebony fretboard, boomerang inlays, 2 piece super nice flamed maple body, original Seymour Duncan pickups, original tuners and electronics with floyd rose arm and case included. First frets have some worn spots in a cowboy area, but it does NOT affect playing and setup is low and comfortable with 1.2 mm above 12th fret with no buzzing or dead spots (much lower than gibson and fender factory setup).
Setup is perfect to my taste, excellent playability with no artifacts in the sound.
The guitar is also for sale locally on CL and marketplace so it might disappear at any moment. Ask all the questions, all sales are final. There will be no refunds. I've sold a lot of my personal guitars in previous years and everyone who received them were very happy and I intend to keep it that way.
International bidders please contact before bidding, to make sure I could ship to your country. Intl. S&H $300. NO REFUNDS.
Shipping to 48 CONUS $100.
Paypal payment accepted.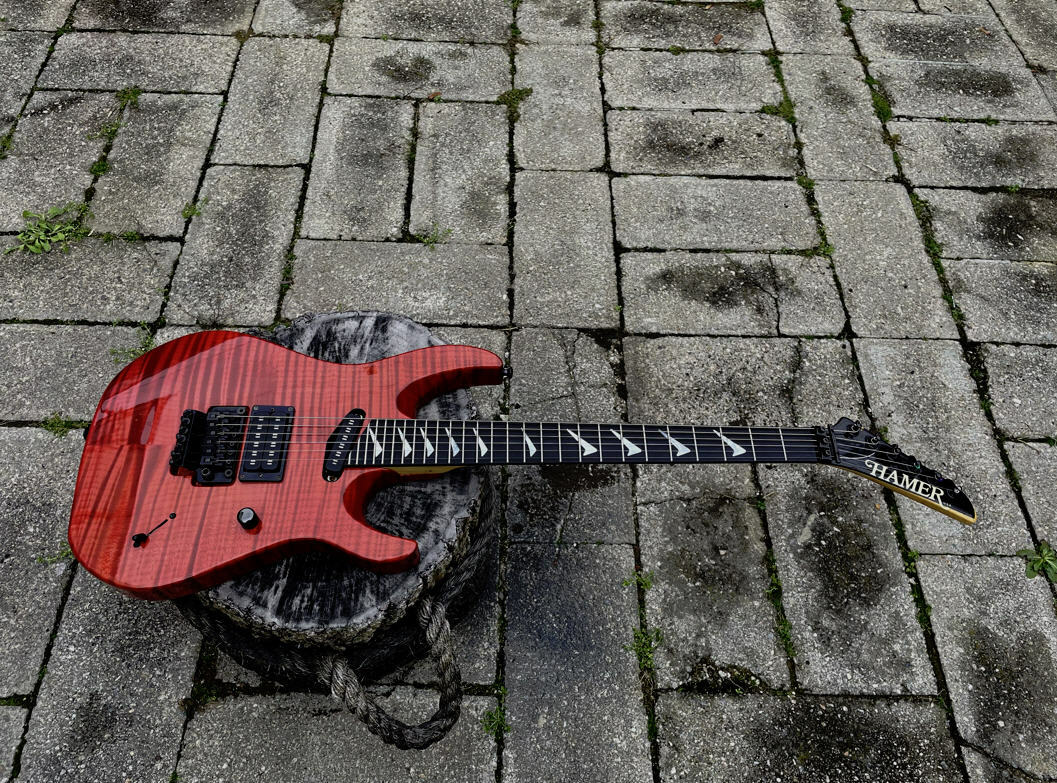 To bid on or purchase this item click here.