52 cm - Trek Madone 5.9 Pro - 15 lbs - Nice Wheels - $5,000 Retail - INV 419

Current Price:

2350.00 USD

Click here to purcahse on eBay.
Selling a 2008 Trek Madone 5.9 Pro road bike, size 52 cm. This bike weighs in at only 15 lbs and is jam packed with some awesome features. First off, Trek's OCLV Black series carbon makes for a lightweight bike that's strong, stiff where needed, and is going to give you significantly better power transfer. Pair that to the entire bike being only 15 lbs and you have a very fast and agile ride. Top of the line Shimano Dura-Ace components bring high quality tech and smooth and consistent shifting and braking every single time. Upgraded Mavic Ksyrium ES special edition wheels are lightweight, durable, aero-spoked, and fast. This is a comfortable bike that's packed with some high end technology, and would be an excellent upgrade for a lot of riders. Really excellent condition cosmetically and mechanically. Just tuned, serviced, and inspected professionally and ready for a new rider. This bike was about $5,000 new, and here's why. Check out these more detailed specs:
Trek's OCLV Black series carbon frame and fork
- Aero shaped tubing
- 15 lbs, 9 ounces
- External cabling
Shimano Dura-Ace groupset - 20 speed
- Dura-Ace shifters
- Dura-Ace rear derailleur, Ultegra front
- Dura-Ace cranksets- 170 mm
- Dura-Ace chainrings - 53/39T
- Shimano cassette - 11-25T
Brakesets - SRAM Red
Wheelset - Mavic Ksyrium ES Special Edition
Tires - Continental GatorSkin - 700x23c
Saddle - Easton EC90
Seatpost - Trek's carbon seatmast
Stem - Truvativ Team Alloy
Handlebars - Bontrager Racelite - 40cm
Brand new ZIPP Bar Tape
Standard pedals included upon request
The Madone 5.9 Pro is a high end bike with lots of bells and whistles. Quality brand name carbon that you can trust. Shimano Dura-Ace components for great shifting and braking and crank efficiency. Excellent set of Mavic Ksyrium ES Special Edition wheels. This bike would be a great upgrade for most riders at a price point that makes it easy to get into the sport if you're a new rider. Great way to get a bike with all the perks and technologies of higher end race bikes while still being cost effective. Just serviced, tuned, and inspected professionally and ready to ride. About $5,000 new. Ships to the Continental US with tracking information uploaded within 24 hours. Professional packaging done by my shop. Reach out with any questions. Call or text also available for fastest response. Phone number is available when you go to the "Contact Seller" option. More photos available upon request. Thanks for looking.
INV-419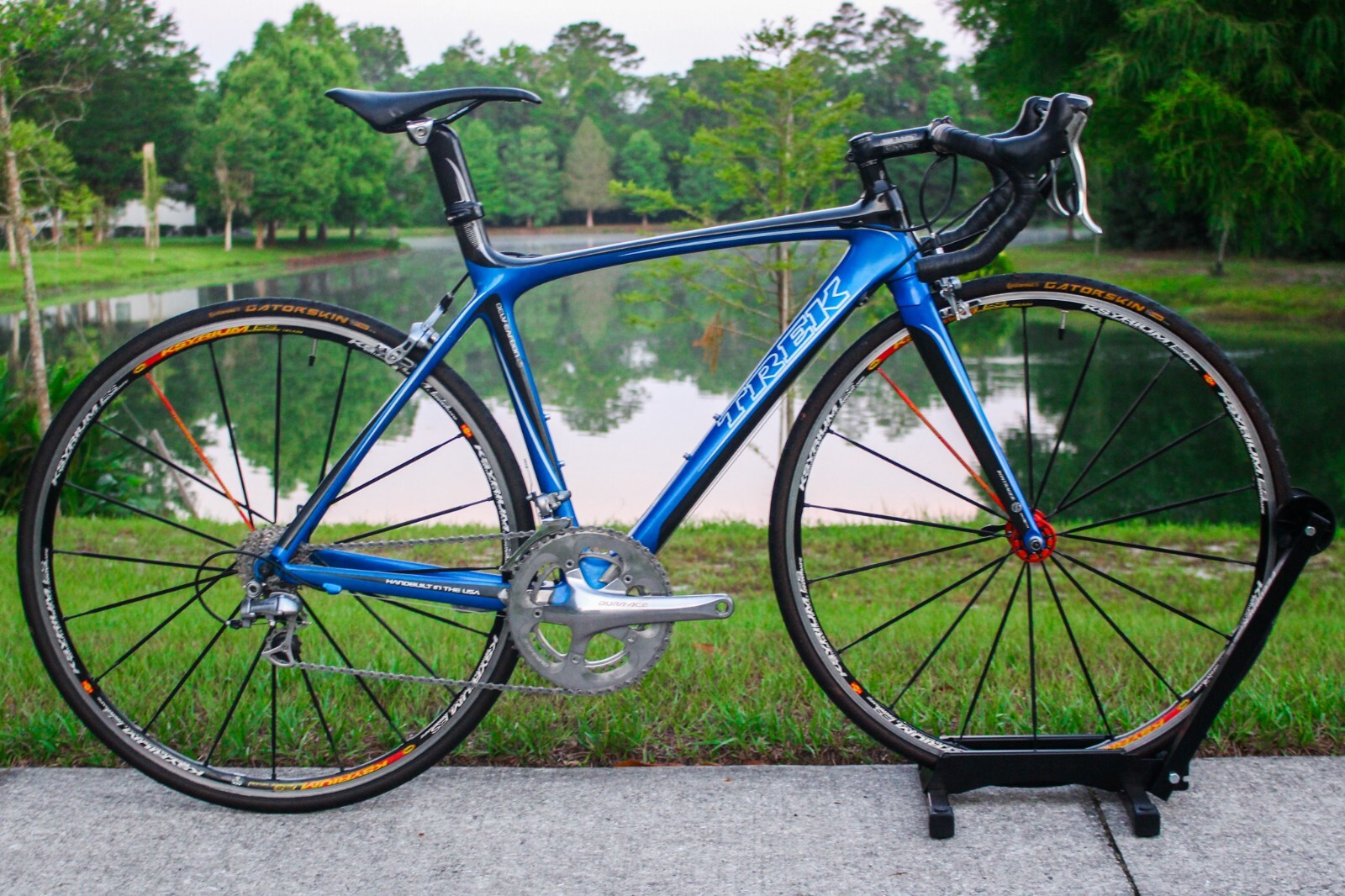 To bid on or purchase this item click here.