Wooden Toy Shotgun, Hand Made in the USA

Current Price:

40.00 USD

Click here to purcahse on eBay.

Wooden Toy Shotgun (based on a Mossberg 500), Hand Made in the USA. Condition is New. Comes with a gloss lacquer. Also available in black or no finish if you message me. I'm making these by hand (not CNC machine like the others), one at a time in my wood shop out of 3/4 inch *plywood. See photos for scale. I started making these toys while on furlough during the pandemic. My kids and their friends LOVE these toys so much that I figured it was time to offer them for sale. For pretend play, I've found kids like simple toys the best. Extra bonus, there are no moving parts to break and no fake gun noises to annoy parents. The lacquer finish will also protect the toy if it gets a little wet.

Some people are buying these for decorations and props. They are sending me some really cool photos of their creations.

Please feel free to reach out with customization requests. I'm able to do just about anything.

*Note, I'm using plywood because it is more durable than raw wood. Raw wood will break along the grain. My kids have been throwing the same plywood toy guns around everyday for more than a year. If my toy gun breaks, I'll happily replace it.




Obviously, please take care that these toys are not mistaken for weapons.

Per federal regulations, the toy guns will ship with an orange painted barrel tip.

Thanks!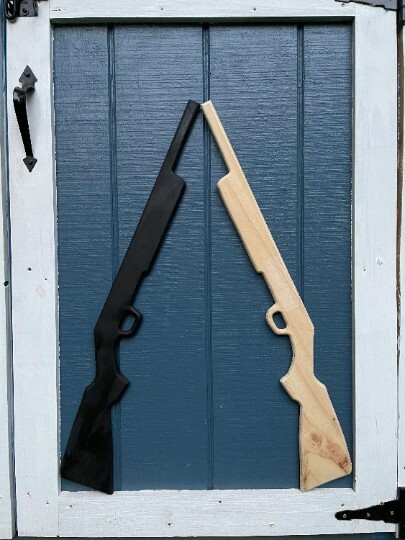 To bid on or purchase this item click here.