Made in USA 3pk - 7.37" Plates with Deep Sides for Easy Baby, Toddler, Child ...

Current Price:

18.96 USD

Click here to purcahse on eBay.
Summary
Re-Play's 7" Flat Plates are perfect for small portion meals, salads and desserts at any age! Durable and affordable, Re-Play Flat Plates are perfect for everyday use as well as outdoor parties, picnics, and barbecues. Mix and match plates with our utensils, bowls, and cups to create a vibrant tableware set!
Dimensions, Features & Details
Made from recycled FDA approved polypropylene*
Deep walls help keep food on your plate
BPA, PVC, phthalates and surface coatings free
Made in the USA
Approx. dimensions: 7.375" by 7.375" by 1.25"
Use & Care

• Recommended age range: All Ages
• Dishwasher Safe
• Microwave may cause staining

Note: Our colorful sets are shipped direct to your home. To cut down on waste, we do not include our standard retail packaging.


*Flat Plates, made from recycled FDA approved Polypropylene, may appear more vibrant than other Re-Play products made from recycled milk jugs (HDPE recycled plastic).


SAFE FOR EVERYONE: Made in America our Environmentally Friendly products that are safer for your child and for the planet. Our family owned and operated company uses Recycled plastic HDPE (Milk Jugs). Our products are BPA, Phthalate, PVC and Melamine FREE. To further protect our planet, the environmentally friendly No Spill Cups are also 100% recyclable at their end of use! Re-Play saves 1 milk jug from the landfill every 6 seconds, completely reducing the use of single use plastics
MULTIPLE USES: Our plastic Dishwasher safe Plates are also microwave safe; they're ideal cups for everyday dining for kids and adults, for a backyard party, picnics, outdoor weddings, camping, barbecues, catering and buffets. Safe to boil, refrigerate, freeze and microwave: you'll find yourself using them as the go to on the go children's plate! There are no decals or surface coatings used in the manufacturing process - so no more peeling of prints!
DURABLE & STACKABLE: Our premium heavyweight plates use thick, hard textured plastic to handle repeated use and are stackable for space-saving storage. Our recycled plastic is double the weight of cheap imports. Virtually Indestructible, Re-Play products will last for years under normal use, and even under institutional use day after day.
BUILD A COLLECTION: Re-Play features bright colors that won't fade over time in 17 colors! We offer plates, bowls, utensils, cups, and snack stacks to create an endless rainbow of functional tableware for the entire family. Look for the Re-Play logo on the back of our products, to ensure you are buying Made in America products direct from the manufacturer.
SHIPPED DIRECT: All of our products are shipped direct from our warehouse here in America to your home. In an effort to save on cost for the consumer as well as cut down on waste, we do not use our standard recycled retail packaging usually seen in stores for online orders.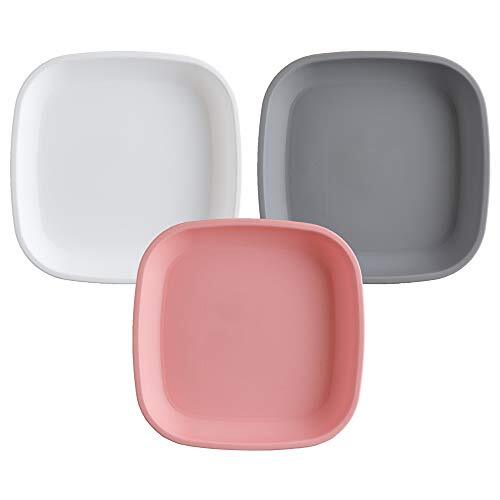 To bid on or purchase this item click here.