Made in USA Fixed Blade Custom Handmade Neck Knife,1095, Dyed Curly Maple #6330

Current Price:

50.00 USD

Click here to purcahse on eBay.



PROUDLY MADE IN OHIO, UNITED STATES OF AMERICA




U.S. LEGION CUSTOM KNIFEWORKS "Thru-Hiker" Neck Knife. Hafting is dyed and stabilized with pure beeswax deep soak for excellent durability and weather protection. This tool comes hair popping sharp, and was built, treated and intended for generations of hard use, while maintaining collection value (uniquely numbered by the Maker). Please see all photos; imperfections characterize this piece, as it is entirely handcrafted, not considered "Mid-Tech" Production. Also, multiple items are commonly listed on the same day, so check them out if you wish... Thanks! ~RT




Steel: 1095 HC

Handle: Genuine Dyed and Stabilized Curly Maple Wood

Pins/Lanyard: Solid Bronze

Blade Length: 3"

Blade Height: 1"

Overall Length: 6"

Thickness: 3/32"

Sheath: Kydex w/ shock cord neck lanyard, included

Manufacturing: Custom handmade/handcrafted by the same Maker, Russ Thomas, throughout all processes including heat treatment.

Heat treatment: Normalization cycling prior to quench sequence for consistent grain structure, professional quenchant used, multiple temper cycles low in precipitation range

Care: High carbon steel will naturally develop a patina over time. You can force it with natural acids, and or clean and oil regularly to delay the patina

Authenticity: Knife is numbered by the Maker. Cert included

Shipping: USPS First Class, shipped the business day of or immediately following confirmed payment




*By purchasing, the buyer certifies that he or she is 18 years or older, and assumes all responsibility for the safe and legal possession, handling and use of this tool. Thanks! ~RT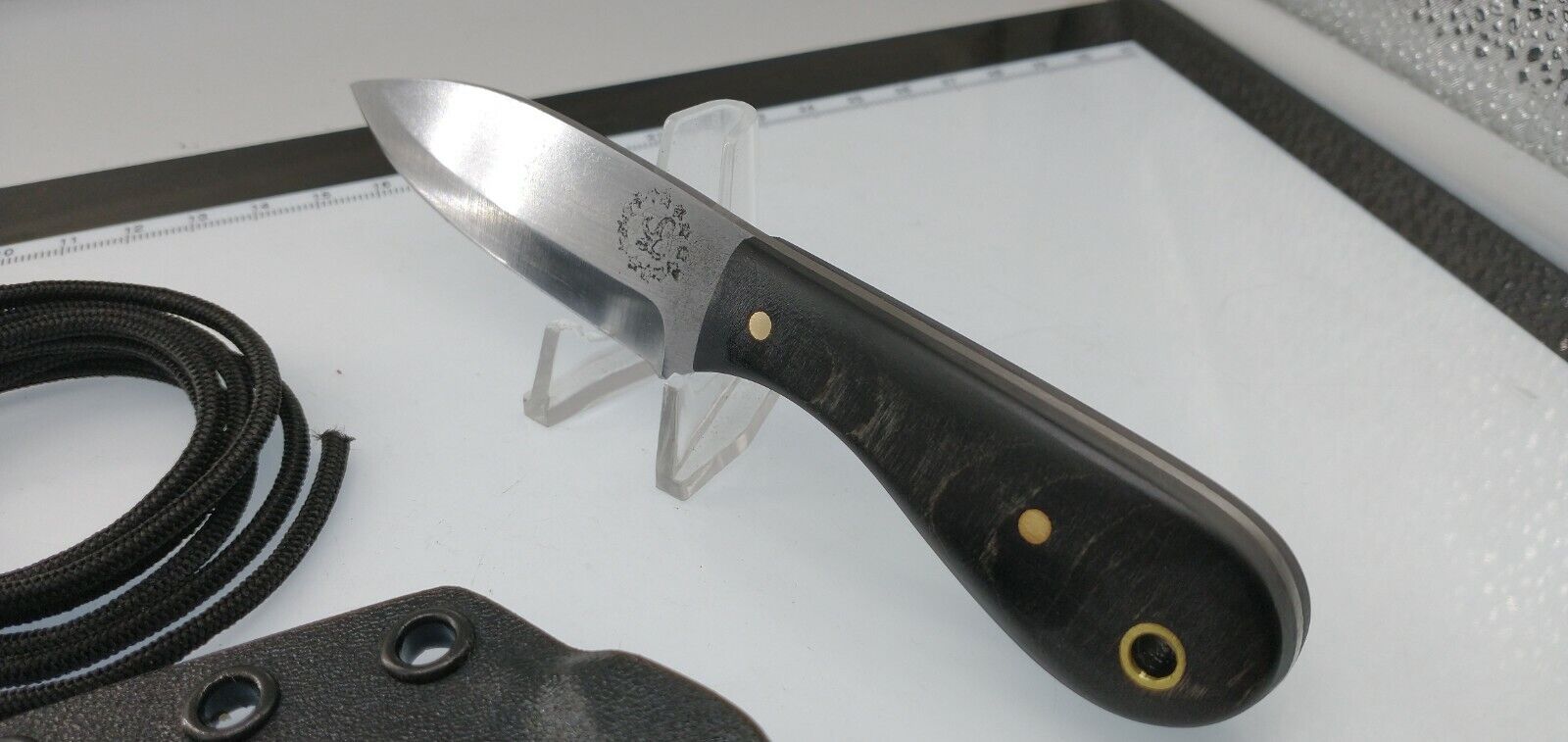 To bid on or purchase this item click here.