Orange Screw: The Ultimate Ground Anchor | LARGE 2 Pack | Made in the USA

Current Price:

29.95 USD

Click here to purcahse on eBay.
ORANGE SCREW™ GROUND ANCHORS
SPECIFICATIONS
Overall Length: 12 1/4"
Thread Length: 10 3/8"
Thread Diameter: 1 1/8"
Eyelet Diameter: 1 3/8"
Weight: 3.6 oz
Material: Recycled Polycarbonate
MADE IN THE USA
Why choose Orange Screw™
Orange Screw™ ground anchors take care of your stuff so you can focus on what you love to do. The Orange Screw ground anchor is an innovative screw-in ground anchor made of 100% recycled materials and manufactured in the USA. Before we invented the Orange Screw™, ground anchors consisted of simple tent stakes, rust-prone spiral dog-tie outs, heavy weights, or cumbersome metal augers. Orange Screw™ ground anchors re-define what a ground screw can do with their slick and durable design. They are portable, easy-to-use, and perform in a wider range of soil conditions than any other portable ground anchor.
This strong and simple multi-use tool will replace your tent stakes and metal dog tie-outs; anchor RV awnings and sun shelters; hold tarps over boats, ATVs and firewood; and so much more. Join the revolution and simplify your kit! Once you use our ground screws, you won't want to use anything else. Seriously.
Easy to use: Simply twist the screw into the ground using the included clear T-Grip Tool for additional leverage and then tie off anything that needs fastening. Dogs, tents, sunshades, tarps, bounce houses...whatever.
Made in the USA from recycled materials: Orange Screw™ is closing the loop: Made in the USA, 100% recycled polycarbonate, hyperlocal supply chain, manufacturer lifetime breakage policy, and end of product life recycling. The perfect recipe.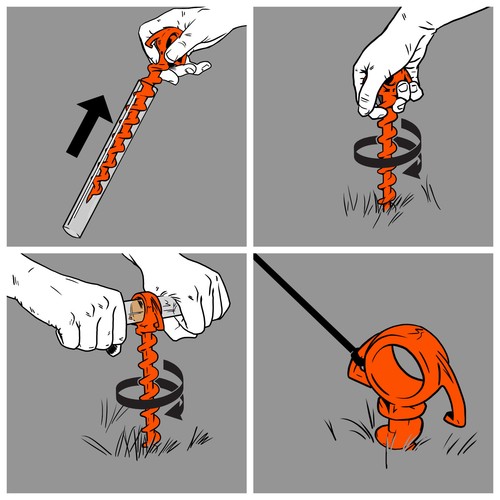 LARGE GROUND ANCHOR
| | |
| --- | --- |
| What to use it for? | Tents and Canopies, Beach Shelter, Dog or Stock Animal, Raft or Light Watercraft, Hunting Blind, Tarps, Bounce House, Inflatable Holiday Decorations, RV Awning and more |
| When to use it? | Camping, Hunting, Decorating, Boating, Gardening, RVing, Entertaining |
| Where to use it? | Grass, Beach Sand, Soft and Loose Soils, Packed Snow |
| Packs available | Single or 2-unit Pack |
| Colors Available | Orange or Black (available for the 2-pack only) |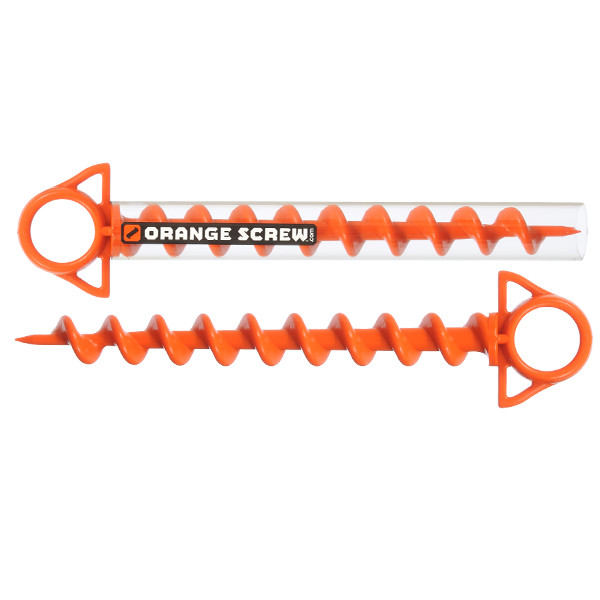 To bid on or purchase this item click here.