Cessna Baggage Door Latch Repair Kit Spring S1359-7, S1359-8 & 9 MADE IN THE USA

Fits many Cessna 172, 177, 182, 185, 205 and 210
Current Price:

35.00 USD

Click here to purcahse on eBay.
This is a very high quality double torsion spring that was made in the USA. It comes with two stainless steel screws and nylock nuts. The bolts are the correct size and require no drilling out of any other parts to install them.
With this kit, you can repair your Cessna baggage door latch, part numbers S1359-7, S1359-8 & S1359-9 in about 30 minutes. This latch was used in 1971 s/n 18260446 through 1979 s/n 18267367 Cessna 182s, C-172's, C-177's, C-210's and C-205's and I have just been told that it fit on a 1973 C185 perfectly.
GUARANTEED FOR LIFE - If it doesn't work on your latch send it back at my expense for a full refund. If it ever breaks or fails just send it back for a replacement.
eBay's GLOBAL SHIPPING PROGRAM is now available.
Look carefully at my pictures, they show exactly how simple it is to do.

1. Remove the latch handle (2 screws)
2. Remove the 3 screws holding the latch in
3. Remove the lock cylinder
3. Cut the two pins with a pair of side cutters
4. Insert the new spring
5. Install the stainless steel screws and nuts
6. Replace the latch


PLEASE CAREFULLY READ THE INFORMATION BELOW
I offer FREE shipping in the USA via USPS FIRST CLASS MAIL WITHOUT TRACKING. If you require something faster or tracking please contact me before buying, to work out those details. Thank you!
If you do not receive your repair kit in a timely manner, know that I am here to help. USPS service has been getting worse and a handful of customers have reported long wait times and fewer have not gotten them. PLEASE allow me the opportunity to make it right BEFORE YOU FILE A CASE with eBay. It seems only fair to me that you email me first. I promise you that I will resolve the problem if you give me the chance first.
BEFORE YOU DECIDE WHO TO BUY FROM please look closely at all of the sellers. Others have multiple listings for the same product, with different prices, yes, different prices. Some try to make you think they were made in and shipped from the USA by saying that is where they are located but if you click on the sellers name and look closely you will see that the seller is based in China.
I have been selling on eBay for over 23 years and am offering a quality spring MADE IN THE USA. I have a completely 100% positive feedback rating and clearly show you exactly how to install this spring before you buy it. I completely guarantee your satisfaction and am the only one who offers FREE RETURNS for any reason and I have the feedback to prove it.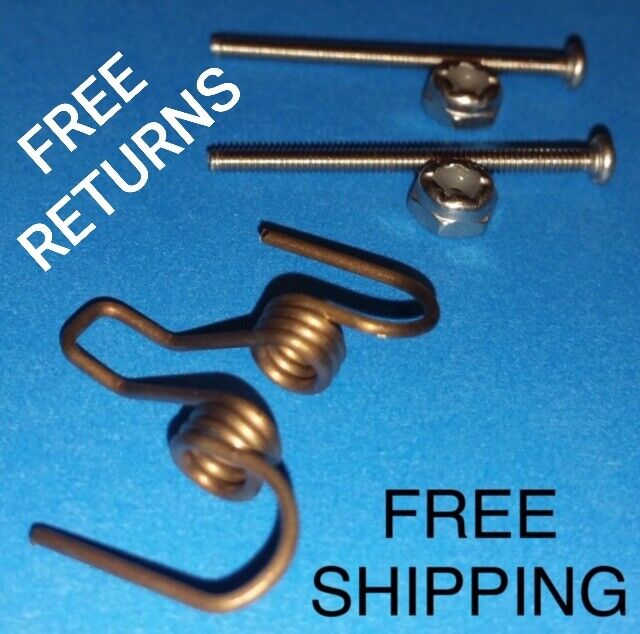 To bid on or purchase this item click here.