No Reserve❗- Gerber Multi-Plier 600 Pro Scout Multi-Tool 🌟 13 Tools❗Made in USA

Current Price:

45.00 USD

Click here to purcahse on eBay.
Please view my other listings for more great $0.01 No Reserve auctions featuring name brands like Case XX, Leatherman, Benchmade, Schrade (USA), KA-BAR, and more posted new every week.
If you would like a Gerber nylon sheath that fits this model they can be purchased for $8. Message me before making payment and I will send an invoice with the sheath added.
Please carefully review all pictures for condition of the item. Up for sale is a Gerber Multi-Plier 600 Pro Scout. The Pro-Scout is the most deluxe version of the Multi-Plier 600 line, with Fiskars scissors and the patented universal saw coupler with the premium RemGrit blade.
Like its brethren in the Multi-Plier 600 family of products, the Pro-Scout is engineered from premium stainless steel. And it sports the popular one-hand opening pliers and the Saf.T.Plus locking system.
FEATURES-
Deluxe version of the Multi-Plier
Flick of the wrist, one-handed opening pliers
Solid stainless steel construction
USA Built w/ Global Parts
TOOLS-
01 Needle nose pliers
02 Wire cutters
03 Wire crimper
04 Combo edge knife
05 Fiskars scissors
06 Cross point screwdriver
07 Small flat blade screwdriver
08 Medium flat blade screwdriver
09 RemGrit saw with universal saw coupler
10 Can Opener
11 Bottle Opener
12 File
13 Ruler
Frequently Asked Questions-
Q: Can you just sell me the item now and skip the auction?
A: When a bid is placed on an item eBay locks out the Buy It Now and Offers options. If I end it prematurely I still have to pay full auction fees for the listing, plus the fees for selling you the item directly. All my auctions must go the full distance.
Q: If I win multiple auctions will you combine shipping?
A: Yes, absolutely! Please message me BEFORE making payment and I will create an invoice with the combined shipping costs. Also, if you're bidding on auctions with different end dates just let me know and we'll work out the details.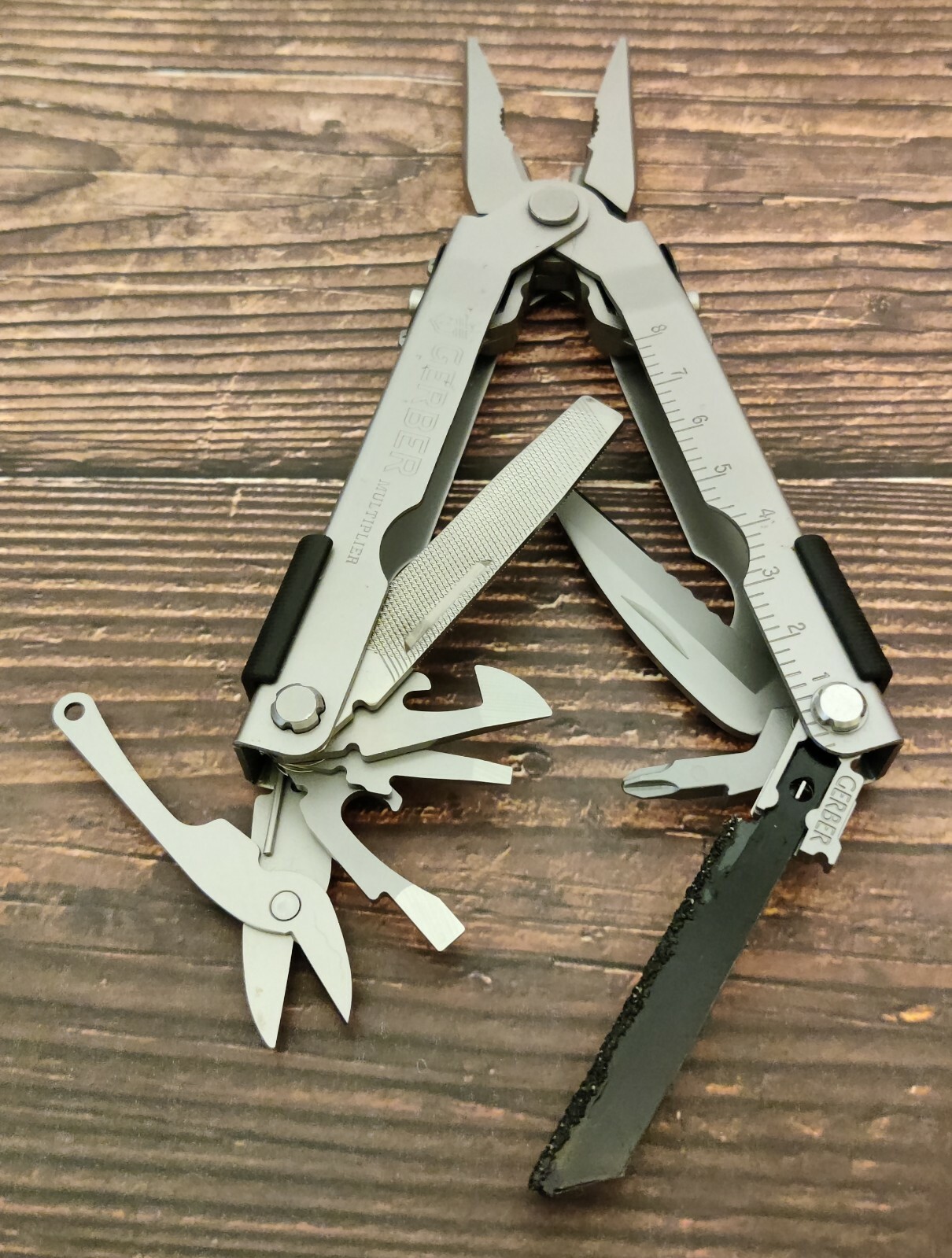 To bid on or purchase this item click here.