No Reserve❗- Leatherman Surge Multi-Tool 🌟 19 Tools❗Made in the USA 🇺🇲

Current Price:

82.00 USD

Click here to purcahse on eBay.
Please view my other listings for more great $0.01 No Reserve auctions featuring name brands like Case XX, Leatherman, Benchmade, Schrade (USA), KA-BAR, and more posted new every week.
If you would like a Leatherman nylon sheath that fits this model they can be purchased for $8. Message me before making payment and I will send an invoice with the sheath added.
Please carefully review all pictures for condition of the item. Up for sale is a Leatherman Surge. It is much more scratched than it appears in the photos and has staining. The pocket clip wiggles from side to side. There is a ding in one plier side. This was a heavy use tool but is still tight and functional. Per Leatherman "The Leatherman Surge is one of our two largest multi-tools; a real powerhouse, built with our largest pliers, longest multi-tool blades and easy-to-use locks. A unique blade exchanger, replaceable premium wire cutters and four outside-opening blades give you quick access to the tools you use most. The Surge was built for tough jobs and the hands that do them."
FEATURES-
01 All Locking Features
All locking features means that every tool and knife on the body of the handle, with the exception of the plier head, will lock into place. The all locking design enables the user to operate individual tools safely and effectively. By locking them into place when fully open, the user can put pressure on the implement while safely completing the job, before manually unlocking the tool to stow it away.
02 Lanyard Ring
This secure ring is for attaching the tool safely and securely to a lanyard. Often people who work near water or on scaffolding attach their tool to a lanyard on their person to avoid losing the tool if it's dropped.
03 Outside-accessible Features
This multi-tool features tools that are accessible while the tool is in its folded or closed position, mimicking the functionality of a pocket knife.
04 One-hand Operable Features
Features on this tool can be opened and operated with one hand. This enables the user to keep the other hand free for situations that require multi-tasking or a free hand.
TOOLS-
01 Needlenose Pliers
02 Regular Pliers
03 Premium Replaceable Wire Cutters
04 Premium Replaceable Hard-wire Cutters
05 Stranded-wire Cutters
06 Electrical Crimper
07 Wire Stripper
08 420HC Knife
09 420HC Serrated Knife
10 Saw
11 Spring-action Scissors
12 Awl w/ Thread Loop
13 Ruler (8 in | 19 cm)
14 Can Opener
15 Bottle Opener
16 Blade Exchanger
17 Large Bit Driver
18 Large Screwdriver
19 Small Screwdriver
SPECS-
CLOSED LENGTH: 4.5 in | 11.5 cm
PRIMARY BLADE LENGTH: 3.1 in | 7.87 cm
WEIGHT: 12.5 oz | 335 g
MATERIALS: 420HC Stainless Steel, Black Oxide
INCLUDED BITS: Phillips #1-2 & 3/16" Screwdriver
Frequently Asked Questions-
Q: Can you just sell me the item now and skip the auction?
A: When a bid is placed on an item eBay locks out the Buy It Now and Offers options. If I end it prematurely I still have to pay full auction fees for the listing, plus the fees for selling you the item directly. All my auctions must go the full distance.
Q: If I win multiple auctions will you combine shipping?
A: Yes, absolutely! Please message me BEFORE making payment and I will create an invoice with the combined shipping costs.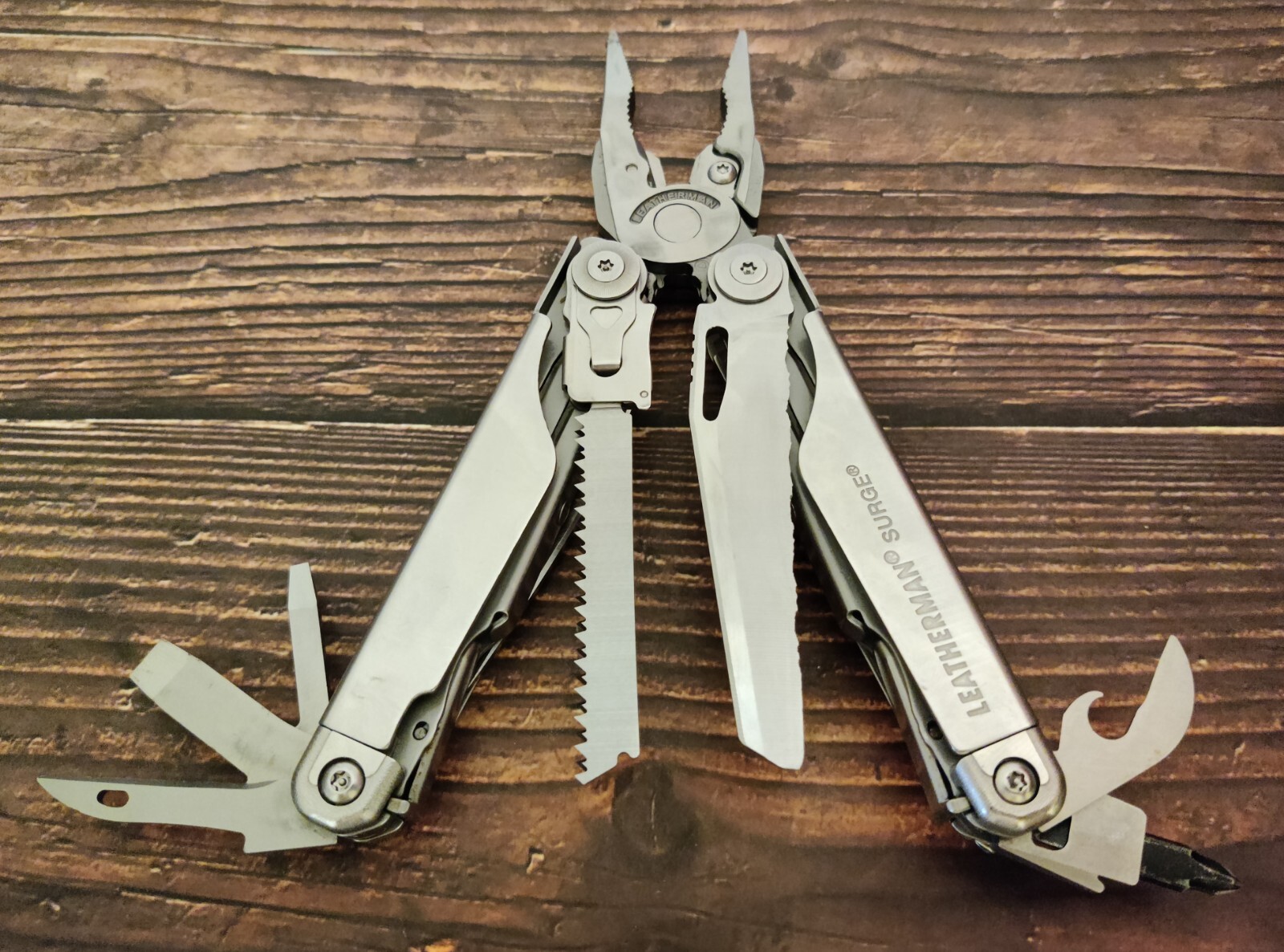 To bid on or purchase this item click here.