Made in USA "Closet Classic" Black nitro finish alder STRATOCASTER body 

Current Price:

349.00 USD

Click here to purcahse on eBay.
Made in USA "Closet Classic" Black nitrocellulose finished alder STRATOCASTER body. Being a nitrocellulose finish, it will not have that perfectly bright & shiny polyurethane appearance, until you put some wax and sweat on the finish. It was professionally finished in nitro to appear like a well-cared-for old instrument, but without the dents and scratches.
Purchased for a "project" that never got started. Never assembled. Standard Fender Stratocaster neck pocket, specs, and measurements. Includes the W/B/W 3-ply pickguard, trem cover, pickup covers, strap buttons, and Fender strap retainers shown in the photos. The bridge area is drilled for the vintage Fender 2 7/32" mounting & string spacing, as found on 1954-1969 Strats, all Vintage reissues, Custom Shop Vintage, Time Machine Reissues, 50s, 60s, 70s Classic Series MIM, Made in Japan Reissues, Crafted in Japan Reissues, Highway 1 Strat prior to 2006, Road Worn MIM, Eric Johnson Strat, Jimi Hendrix Strat, Jimmie Vaughan Strat, Yngwie Malmsteen Strat, and the Eric Clapton Strat. If you need the 2 1/16" string spacing on this body, you may still be able to find a conversion plate and block for the vintage 2 7/32" mounting with the 2 1/16" string spacing. I believe that Callaham Guitars sold these parts, but do not know if they still stock them.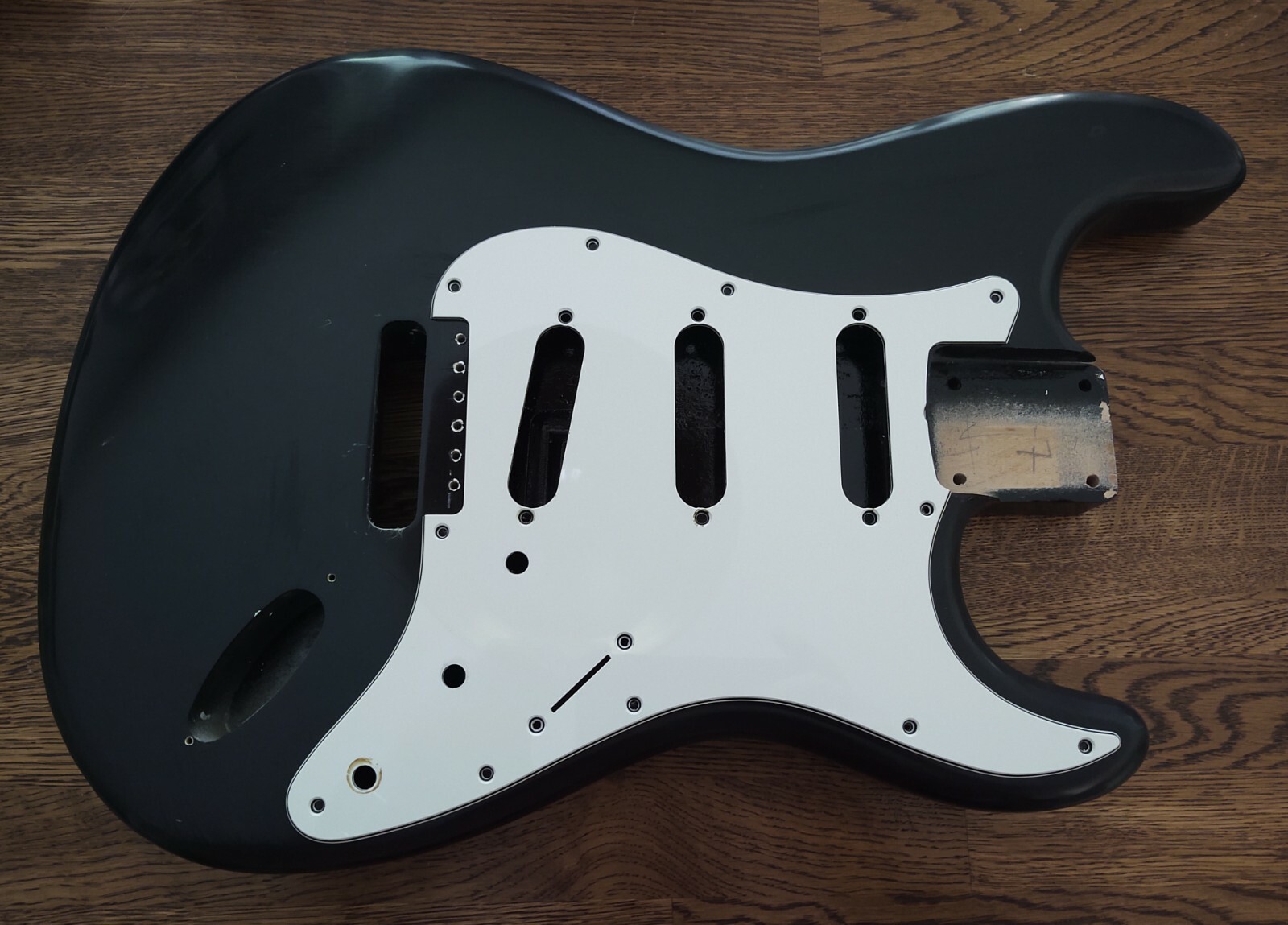 To bid on or purchase this item click here.