SNAKE BITE TREBLE BOOSTER (CATALINBREAD NAGA VIPER CLONE) (HAND-MADE IN USA)

Current Price:

89.99 USD

Click here to purcahse on eBay.
SNAKE BITE TREBLE BOOSTER (CATALINBREAD NAGA VIPER CLONE) (HAND-MADE IN THE USA) FREE SHIPPING
**HAND-MADE WITH TOP QUALITY
   COMPONENTS**
• NICHICON AUDIO GRADE CAPACITORS
• WIMA FILM BOX CAPACITORS
• 1% METAL FILM RESISTORS
High-heat Treble-booster with Extra Functionality
The Dallas Rangemaster Treble Booster was a seminal part of the classic rock sound of many guitarists in the 70s and 80s — but it had its limitations. With a single Boost knob, you could pump great upper midrange enrichment into your amp, but there was no possibility of using it as a clean boost or a fuzz box. Plus, if you didn't crank your amp way up, the effect was, frankly, unimpressive. The SNAKE BITE (Naga Viper Clone) lets you experience all the crunchy breakup and searing solo power of a dimed Marshall stack at bedroom amplitudes. You also get a Range knob for controlling frequency response, as well as a Heat knob for setting the gain — and you still get the Boost control for choosing your output level. The SNAKE BITE TREBLE BOOSTER pedal is your ticket to 1970s-era tone with modern control and creative flexibility.
Serious tone shaping
Vintage-style treble boost circuitry is at the heart of the SNAKE BITE (Naga Viper Clone). It is melt-your-gums hot, like its namesake world-champion chili pepper. Pump it into a cranked amp and you'll enjoy a raunchy trip to Retro Rockville. With the Range and Heat knobs fully clockwise, the SNAKE BITE (Naga Viper Clone) was designed to put that Rangemaster goodness into pedalboard-friendly modern form at diplomatic amplitudes, but it does so much more. Dial back the Range, and you can turn your small amp into a giant fuzzbox. Back off the Heat dial to clean up your boost and infuse it with intense clarity and exceptional energy.
SNAKE BITE Treble Boost Pedal Features:
• 70s/80s hard rock tone — like a Marshall stack at "10" — in pedal form at bedroom volumes
• Same tone circuits as the vintage Dallas Rangemaster for authentic old-school sound
• Better tone-shaping control, thanks to the addition of Range and Heat knobs
• Dialing back the Range control gives you back the low end for funky fuzz
• Heat knob gives you gain control; turn it counterclockwise for cleaner boost
• Named after a champion hot pepper because it brings serious heat
• All-metal chassis and high-quality true-bypass footswitch for long-lasting performance
• (HAND-MADE IN THE USA)
Tech Specs
• Pedal Type:Boost
• Analog/Digital:Analog
• Inputs:1 x 1/4"
• Outputs:1 x 1/4"
• Power Source:9V DC power supply (sold separately)
• Power Usage:1mA
• HAND-MADE IN THE USA
**Catalinbread is a trademark of Catalinbread Pedals. All product names used by Apb Pedals are trademarks of their respective owners. These trademarks of other manufacturers are used solely as a reference to describe APB Pedals.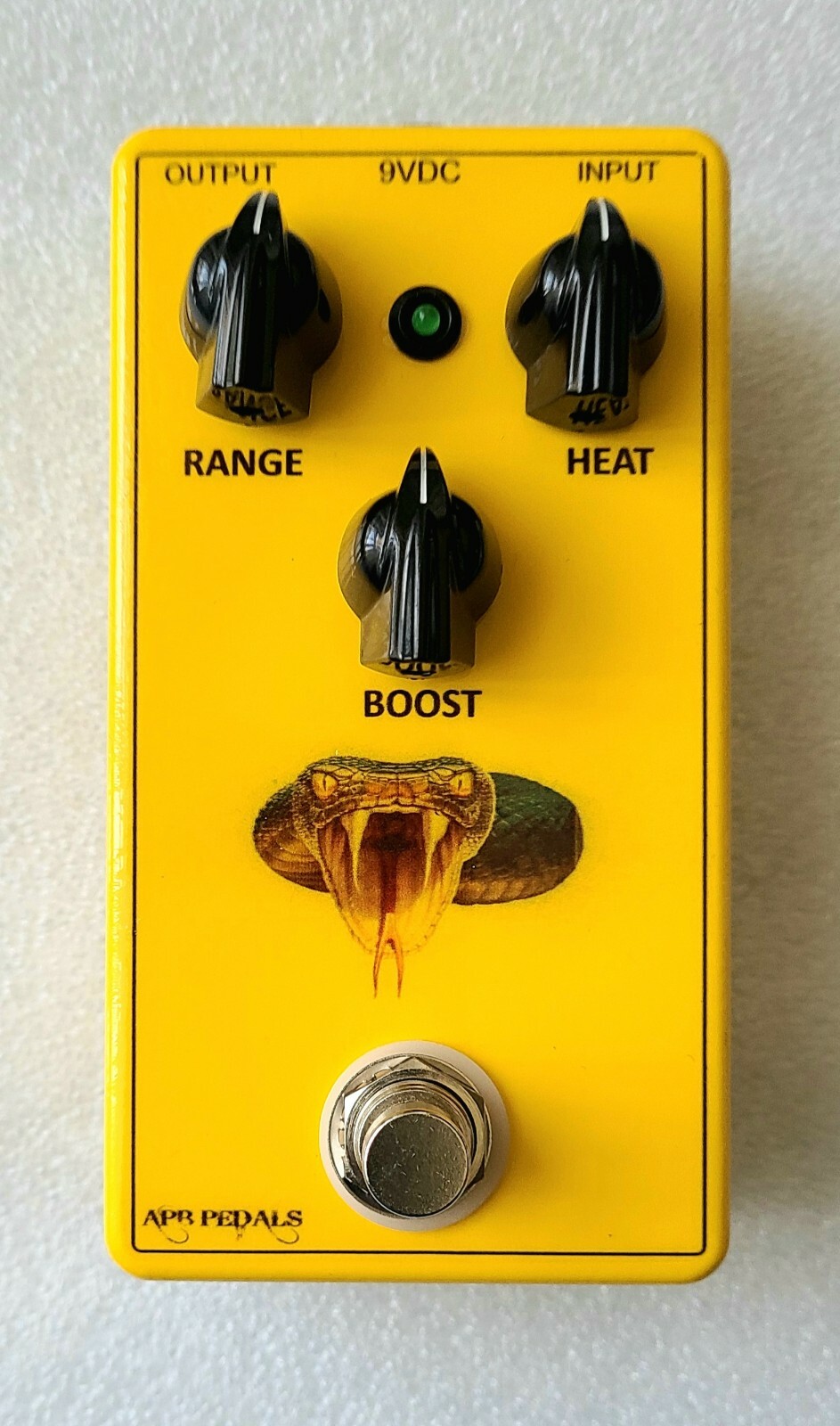 To bid on or purchase this item click here.