OFF GRID SOLAR OVEN COMPLETE PACKAGE / MADE IN THE USA

Current Price:

299.00 USD

Click here to purcahse on eBay.
PERFECT FOR EMERGENCY PREPAREDNESS
"MADE IN THE USA"
Soelov 100 Hybrid Solar Oven!
NEW package includes more items!
A truly unique way to cook and warm food
Designed and built in the USA
The patent pending hybrid design of the Soelov line of ovens has taken solar cooking to a new direction. AES has removed the sun only approach and designed its' ovens to be able to cook with zero sun.

Built with commercial quality FDA & USDA approved materials to ensure a safe and tasty cooking experience. No longer does food cooked in a more traditional black plastic solar oven have to smell and taste of plastic. No longer do you have to be at the mercy

of perfectly

clear skies and brilliant sunshine.
AES designed the Soelov from the start to be able to cook with or without the sun. We incorporated a built-in
electric option to ensure you can cook day or night / indoors or out / or even in your vehicle. And not just any electric option, but rechargeable battery power (charger included). With the optional solar panel to recharge the battery and or the in your vehicle 12 volt auxiliary power cable
(Both available from our ebay store) you can be totally off grid.

The Soelov 100 weighs only 5 lbs, making it one of the lightest cookers on the market. To further enhance the portability of the Soelov 100 , we have designed it to fold up for easy transporting. Easily fits in most standard backpacks. The Soelov 100 is our entry level hybrid oven and is perfect for 1 to 2 people.

The Soelov 100 package includes everything you need to start the hybrid cooking experience.
WHAT'S INCLUDED:
The patent pending Soelov 100 hybrid oven
18ah - 12volt rechargeable AGM battery
Standard in-home plug-in charger
Stainless steel pot with glass lid (ideal for solar cooking in the Soelov )
Instant read internal food thermometer (a must for cooking meat, fish or poultry)
Laminated USDA food temperature guide
"NEW" 50-50 blend gloves for handling warm food or warm containers
Beautiful Beechwood spoon/spatula with our AES initials on the handle

Detailed owner's manual to help you get the most from your new Soelov 100
Check our eBay store for extra batteries and vehicle plug in adaptor for total grid down cooking.
* DO TO HIGH DEMAND WE ARE ONLY SHOWING 2 AVAILABLE PER LISTING *
Returns * - Due to the nature of this item we do not accept a no reason return. Items such as this are frequently purchased for emergency situations or 1 time camping etc. We stand behind our products with a 1-year warranty on all parts and a 2-year warranty on the heating system. Please contact us with any issues or questions through the EBAY program. Thanks!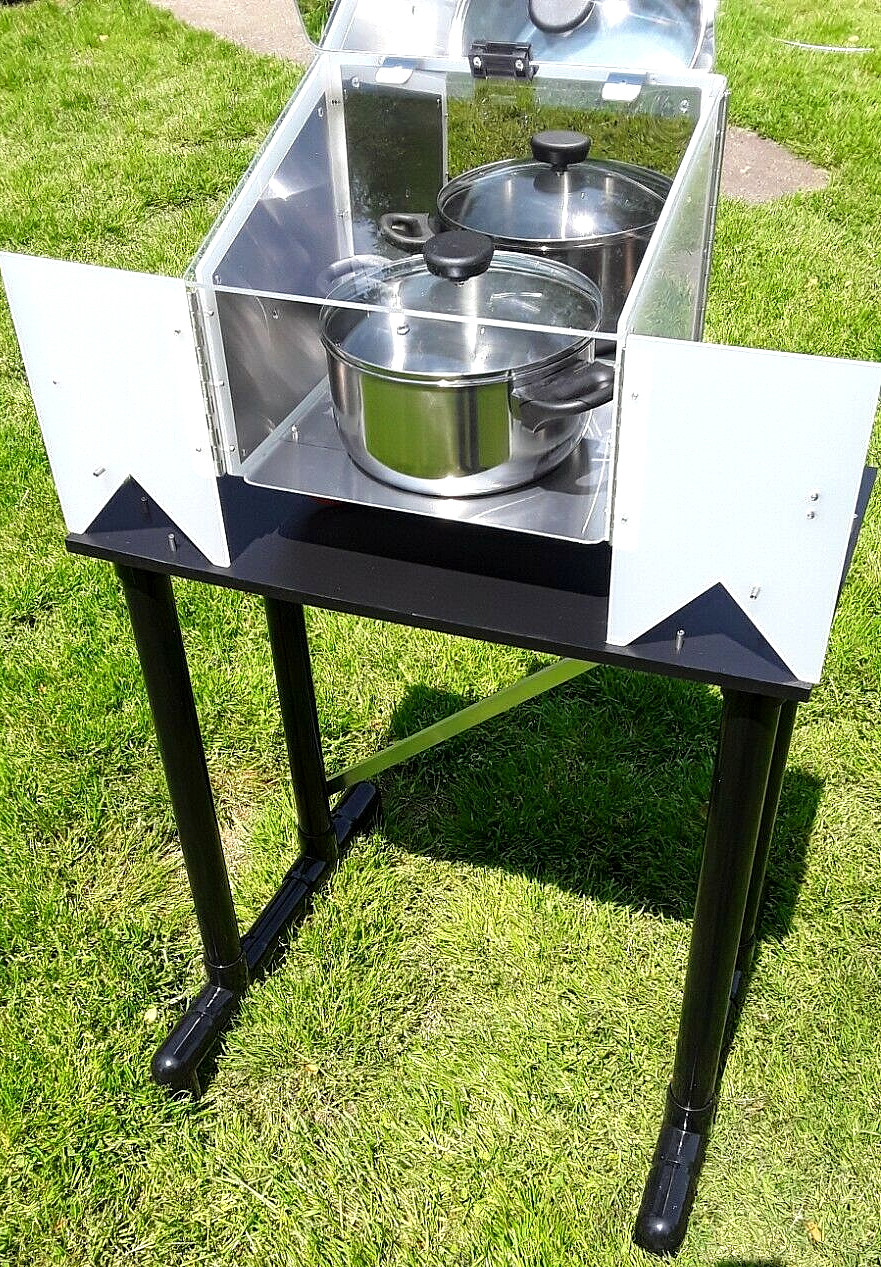 To bid on or purchase this item click here.