Constructive Eating Dino Placemat Toddlers Infants Babies Kids Made in USA NEW

Current Price:

8.99 USD

Click here to purcahse on eBay.
BRAND NEW
and in the
Original Manufacturers Packaging
KEY FEATURES:
Constructive Eating's products are BPA, Phthalate, PVC, Lead and Paint Free, and are fully compliant with the CPSIA of 2008
MADE IN THE USA: All of Constructive Eating's products are made in the USA.
Simply wipe down the placemat to clean
With shaded areas that match the Construction utensils, kids can learn to set a perfect plate at the table by matching the utensils to the shaded area

DESCRIPTION:
The Dino Placemat is designed to fit and work together with the Dino Utensil Set and Dino Plate (available in separate listing). The Dino Placemat features a landscape of prehistoric earth featuring dinosaurs eating, sleeping, and roaming. The placemat is durable and is easy to wipe clean.

Constructive Eating removes the taboo from "playing with your food" and combines fun, adventure, and mealtime.

The Dino Placemat includes shaded images of the Dino Utensils and subtle features from our Dino Plate, which provides the opportunity for children to get ready for meals by setting their place at the table. Take a close up look at the Dino Placemat's shaded areas and let Constructive Eating teach you how to prepare for mealtime!

ABOUT US:
We are a small family based business in Northern California. We pride ourselves on great customer service and fast shipping. We have been selling on eBay for more than 10 years!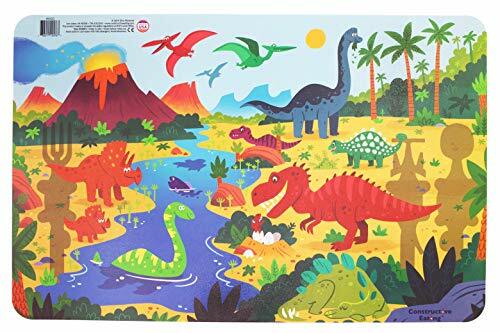 To bid on or purchase this item click here.