2006 Harley-Davidson Softail DELUXE

Current Price:

6489.00 USD

Click here to purcahse on eBay.
06 Harley-Davidson® Softail DELUXE
Year:

2006

Make:

Harley-Davidson®

Model:

Softail

Condition:

Used
Paint, tires and seats in good condition, low miles, a splash of chrome, reinforced saddle bags and Vance & Hines exhaust.... Video Link: https://youtu.be/_WsFCz8RZYY .......Mega Motorsports Key words: Motorcycle, Scooter, Street, Standard, Cruiser, Vtwin, V-Twin, Sport, bike, touring, dual-sport, dual-purpose, multi-purpose, purpose, dual, adventure, UTV, SUV, RV, utility, sxs, side by side, side x side, atv, three wheeler, trike, quad, custom, golf carts, chrome, big twin, reverse, two up, passenger, four, solo, Honda, Kawasaki, Yamaha, Suzuki, SSR, Polaris, CFMOTO, Spartan, Stag Trailer...
Basic Information
Year: 2006
Make: Harley-Davidson®
Model: Softail
Trim: DELUXE
Stock Number: UY049501-061523
VIN: 1HD1JDB126Y049501
Condition: Used
Type: Cruiser
Mileage: 27,887
Title: Clean
Color: White over Blue
Engine
Bore (in): 3.75
Bore (mm): 95.3
Carburetor Size (mm): 40
Carburetion Type: Carburetor
Carburetor
Compression Ratio: 8.9:1
Cooling System: Air
Cylinders: 2
Engine Brand Name: Twin Cam 88B
Engine Disp. to Weight (cc): 2.08
Engine Size (cc): 1442
Engine Size (ci): 88
Engine Stroke: 4-Stroke
Engine Type: V Twin
Fuel Capacity (gal): 5
Fuel Requirements: Premium
Number Of Carburetors: 1
Starter: Electric
Stroke (in): 4
Stroke (mm): 101.6
Torque (Ft Lbs): 85
Torque (Nm): 115.2
Torque RPM: 3000
US Miles Per Gallon (City): 42
US Miles Per Gallon (Hwy): 50
Valve Configuration: OHV - Pushrod
Valves: 4
Valves Per Cylinder: 2
Drivetrain
Heel Toe Shifter
Number Of Speeds: 5
Primary Drive (Rear Wheel): Belt
Transmission: Manual
Primary Drive (Engine / Transmission): Chain
Transmission Gear Ratio (1): 10.11
Transmission Gear Ratio (2): 6.96
Transmission Gear Ratio (3): 4.95
Transmission Gear Ratio (4): 3.86
Transmission Gear Ratio (5): 3.15
Chassis & Suspension
Frame: Steel
Front Suspension Type: Telescopic Fork
Number Rear Shock Absorbers: 2
Rear Suspension Material: Steel
Rear Suspension Type: Twin Sided Swing Arm
Brakes
Front Brake: Disc
Front Brake Diameter (in): 11.5
Front Brake Diameter (mm): 292.1
Rear Brake: Disc
Rear Brake Diameter (in): 11.5
Rear Brake Diameter (mm): 292.1
Safety
Headlight
Headlight Mounting Bar
Headlight Type: Halogen
Fuel Level Warning
Rearview Mirrors
Passing Lamps
Comfort
Digital Instrumentation
Trip Odometer
Seat Rail
Specifications
Dry Weight (kg): 314.3
Dry Weight (lbs): 693
Front Tire (Full Spec): Dunlop MT90-16
Front Tire (Inches): 16
Front Tire Aspect Ratio: 90
Fuel Capacity (liters): 18
Ground Clearance (in): 4.8
Ground Clearance (mm): 121.9
Length (inches): 94
Length (mm): 2405.4
Rear Tire (Full Spec): Dunlop MU85 R16
Rear Tire (Inches): 16
Rear Tire Aspect Ratio: 85
Seat Height (inches): 24
Wet Weight (kg): 328.4
Wet Weight (lbs): 724
Wheelbase (in): 64.5
Wheelbase (mm): 1638.3
Wheels Composition: Steel
Speedometer
Other Information
Belt Guard
Detachable Passenger Seat
Exterior Covers
Exterior Guards
Floor Boards
Foot Pegs
Foot Peg Location: Passenger
Front Fender
Front Fender Trim
Hand Grips
Side Cover
Rear Fender
Rear Fender Rail
Rear Fender Trim
Rear Rack
Stand
Stand Type: Kick
Tank Divider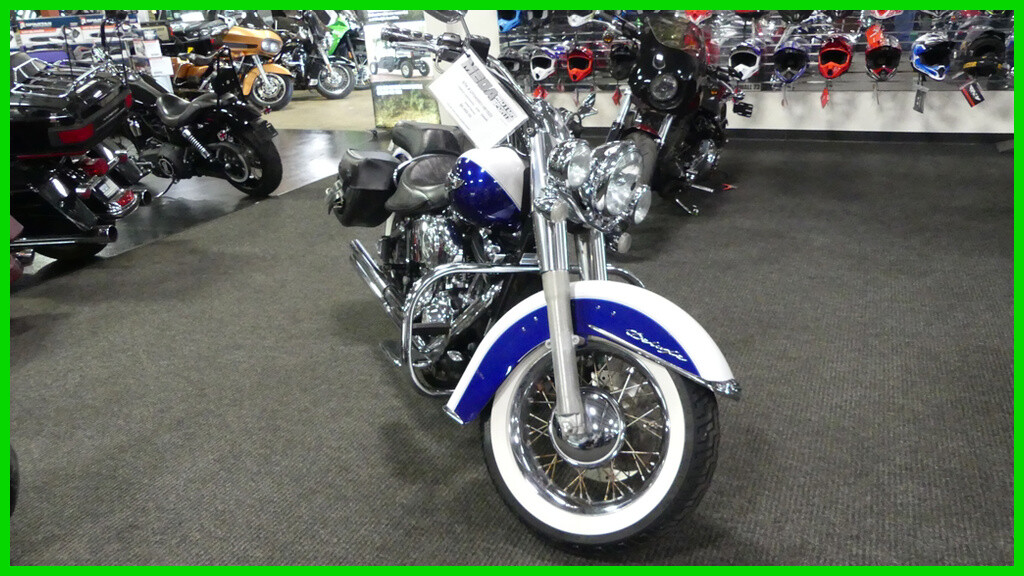 To bid on or purchase this item click here.