1949 Harley-Davidson WL - SP

Current Price:

30000.00 USD

Click here to purcahse on eBay.
See more Classic Motorcycles for sale at

Classic Motorcycle Consignments
1949 Harley Davidson WL - SP
2-cyl. 742cc/24hp
45 ci Flathead twin with Aluminum Heads and special Stainless Steel trim pieces.
HISTORY: This 1949 Harley Davidson WL has a great history! It was purchased on 3/25/51 from Billy's Harley Davidson in Connell, Washington a wheat farmer named W.C. Dettman for his son. The son passed away unexpectedly in 1955 and the bike went into the barn.
The current owner saw an ad for a liquidation of the barn in 1988 and he noticed this WL and picked it up. This was the beginning of the Yanke Motor Museum in Boise, Idaho.
The current owner maintained the bike and rode it often well into the 90's. This is an all- original paint, original to the 1949 Harley WL in Peacock Blue. This bike is complete with most of the original first-year items listed for this bike including the use of polished, Stainless steel fender light, Air Cleaner, timer cover, and generator end cap.
* NOTE: The only items replaced with OEM parts by current owner are the teardrop toolbox and a correct exhaust.
MILEAGE: Original speedometer indicates XXXXXX miles. Photo to follow.
PAINT: Harley-Davidson Factory original paint Peacock Blue is in amazing condition, with only a few small chips.
SHEET METAL: Sheet Metal is an excellent fit, original Harley tin. This example sports most of the one year only Stainless-Steel items such as the front fender lamp, air cleaner, timer cover and generator end cap. The chrome relay cover is correct one year only. This bike has the "Speed Sport Solo" factory option package.
CHROME: The chrome on the bike is 1949 original and is in very good condition.
MECHANICAL: The WL runs as new with a recent top-end rebuild using all H-D NOS parts. All replaced parts are included as spares.
WHEELS & TIRES: Chrome rims and steel spokes.
Front Tire is Correct Good-Year 5.00-16.
Rear is a Beck 5.00-16 tire. Tires still look like new.
TITLE: State of Washington Title. Oct. 15, 1951. Signed over to current owner on 10/2/88
Clean engine number equal to VIN in Title
Belly numbers match…Pictures available
ACCESSORIES: Factory Options included with "Special Sport Solo" with Aluminum Heads and a trim package, including, chrome rims, chrome handlebars w/ dog-bone risers, stainless steel horn grill, fender lights, timing cover, air cleaner cover, and primary inspection covers, Chrome shift covers, shifter w/ special knob, and a special seat)
VALUE GUIDES:
Hagerty Value guide:
#1 Concours condition $35,800
#2 Excellent condition $24,500
#3 Good condition $16,900
#4 Fair condition $12,400
NADA Value Guide:
Excellent $29,935
Very Good $15,555
Good $9,095
Fair $7,050
1949 Harley-Davidson WL "45" HIGHLIGHTS:
Engine: 45 Degree Side Valve V-Twin with a displacement of 45 Cubic Inches/ 750 cc's and with a Bore & Stroke of 2.75" x 3.81" The Carburetor is Linkert; Ignition is original 6V Battery, Points & Coils. Primary drive is a Duplex Chain, Kick start Only. Foot Clutch; Dry, Multi-disk. Transmission: 3-Speed, Hand Shift. Single Down Tube frame with front Springer Fork/ Rigid Rear with a Sprung Seat. Brakes are Drum with Internal Expanding shoes. Wheels/Tires: 5.0 x 16/5.0 x 16 Wheelbase: 57.5" Weight: 530 Pounds.
OVERVIEW: Following the Harley-Davidson R Model, the 45 cubic inch WL made a long successful run as a universal motorcycle starting in 1937. The WL was replaced by Harley-Davidson K Model in 1952, and the middle-weight side-valve Harley-Davidson continued.
While using a slightly lower tech design than the 61 cubic inch OHV EL, the "flathead" 45 was the backbone of Harley's lineup. Not only did it serve well as a courier machine with tens of thousands manufactured for World War II mostly in military specs, but also in numerous two and three-wheeled versions. And it was the mount of choice for many police departments. The WL series enjoyed great commercial success and was the basis of a machine for 750cc, 45 cubic inch Class C racing series which AMA launched in 1934; the Harley-Davidson WR.
For comparison, the WL is the basic model, with the sportier WLD, which used a higher compression ratio, referred to as the Special Sport Solo. Wheel sizes, styling and trim were nearly identical to the "big twin" EL and later FL, but the scaled down WL's have a shorter wheelbase and less weight which offered more nimble handling.
See more Classic Motorcycles for sale at

Classic Motorcycle Consignments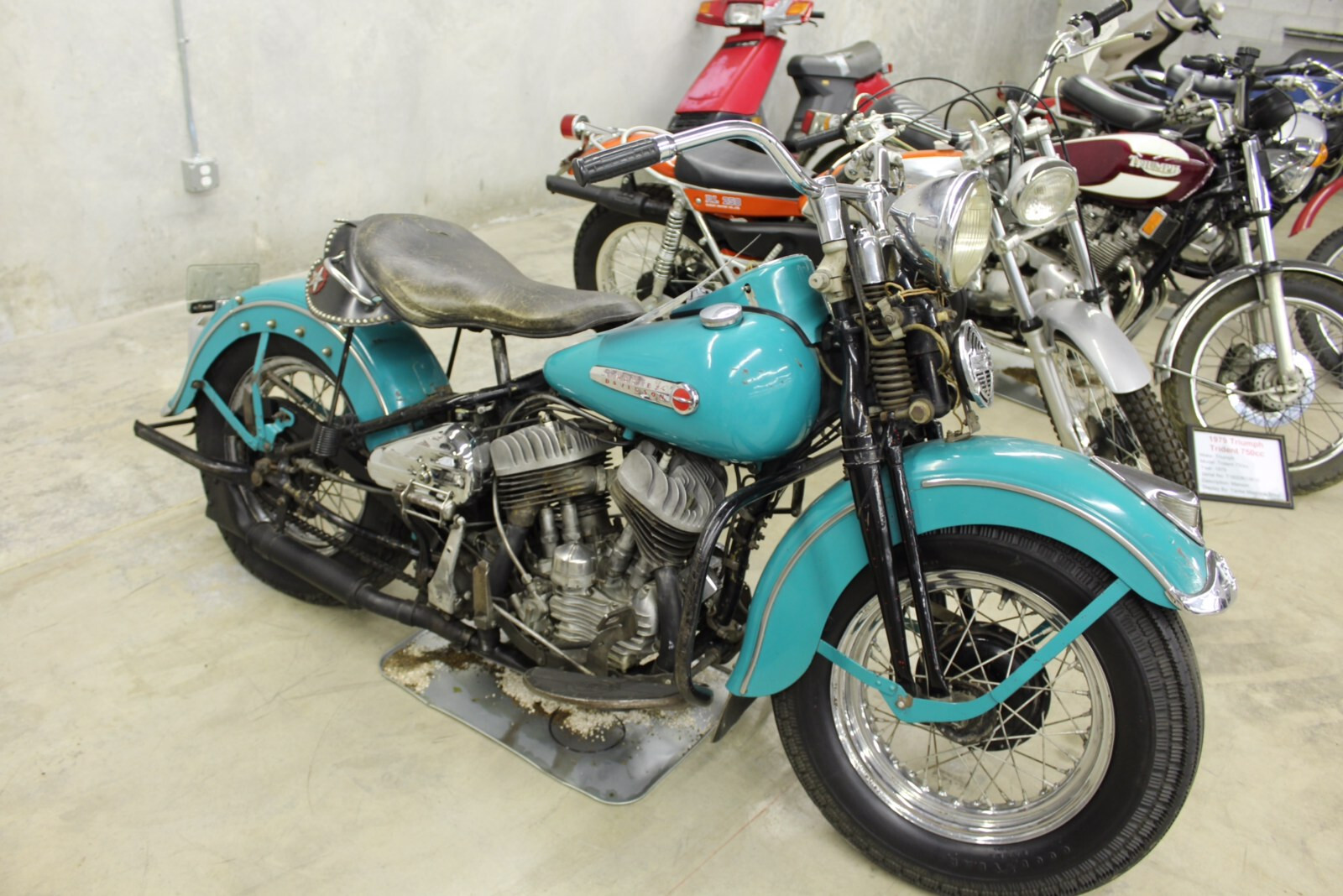 To bid on or purchase this item click here.