Baffle Wire Kit for Cessna 150, 120, 140 with Continental

Current Price:

48.00 USD

Click here to purcahse on eBay.
Stop wasting your time or your A&P's time trying to make baffle wires!
Do the math, there are 8 wires needed for most 120/140/150s and let's say it take 5 minutes to make a wire. @$120/hr, that is $80 for wires (however they look) and you still have to find the right springs!
Most folks just go to the hardware store and find a spring that looks close. Any good A&P knows that the right compression spring will reduce chaffing. Our compression springs are custom made to meet the compression requirements.
This baffle wire kit will work on a Cessna 120, Cessna 140, Cessna 150 requiring baffle wires and springs.
The C150 kit contains
6 each 6" baffle wires - use to make the 0450211-1, 0450211-2, 0450277-5, or 0450277-205 wires
2 each 12" baffle wires - use to make the 0450277-8 or 0450277-208 wires
8 each baffle springs
Extra 12" wire, just in case...
Wire bending template
These baffle wires are not TSO or PMA parts.
You or your A&P will finish making the baffle wire by cutting the wire to the length needed and using the old wire or the provided template to make the "hook" end. You have assisted in producing the wire making it an owner produced part (FAR 21.9)
The wires and springs are made from zinc coated ASTM A-228 music wire. They were tested against OEM Cessna baffle wires and passed our rigidity, bend retention and dead weight testing.
The last image shows a tip we received from a customer that did not have any of the old wire to use as a template. They installed the straight wire with the spring as normal. Then they pushed on the head of the wire compressing the spring completely and marked the wire where the hole is. Measuring up a 1/4" they made another mark where they started the bend.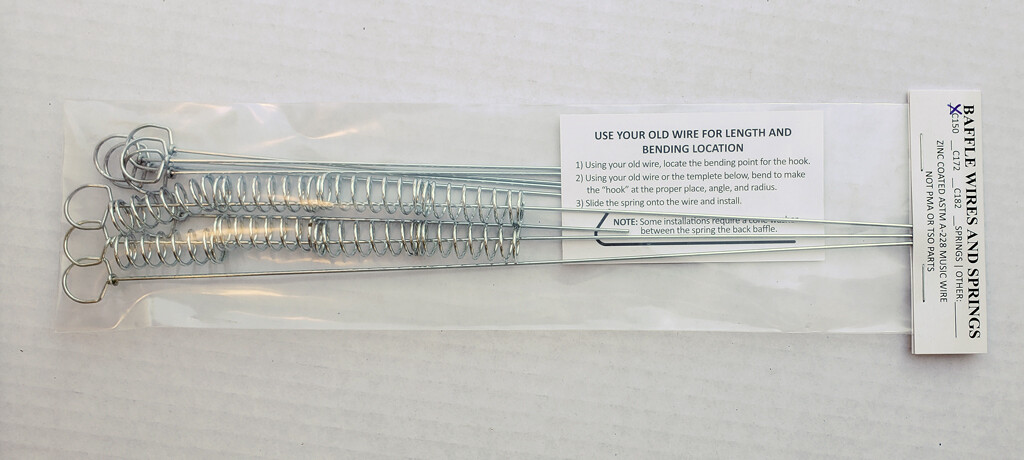 To bid on or purchase this item click here.