Ansco No. 9 Model B Folding Camera, Made in USA 1906, Working, A Beauty!

Current Price:

65.00 USD

Click here to purcahse on eBay.
Offered is a handsome and functional camera that's about 115 years old. This is a Number 9 Ansco Model B, a folding camera that takes roll film and makes 3-1/4" x 5-1/2" images. Made for size 122 roll film. The shutter is a self-cocking Cyko Automatic with speeds of 1/25, 1/50, 100, B & T. The lens is by Wollensak and has a maximum aperture of f4 and a diaphragm with 14 blades. I'd guess the focal length is 120mm or thereabouts.
This 9/B camera has a cherry wood body with beautifully-varnished exposed surfaces. Genuine leather is used for the bellows, and they appear to be light-tight. The shutter housing is nickel-plated.
Condition: Very clean overall, smooth and intact leather covering, fine shine to the exposed cherry wood, bright chrome parts. The original leather handle is intact and supple. The focusing rack is smooth in operation. The little reflex viewfinder is bright and is not de-silvered. The shutter works properly provided the camera is held level. The lens is clear enough to shoot, if you can fit some 120 film into this camera!
Here's a link to the original owner's manual:
https://www.cameramanuals.org/agfa_ansco/ansco_no_9.pdf
Sold as shown.
Payment is due at time of purchase. We ship 1 business day after your funds clear, and on the same day when possible. Ships from US zip code 30512.
We ship to USA and APO addresses via parcel post or priority mail (whichever is less costly). W
e prefer not to ship to San Francisco CA nor to Brooklyn NY due to repeated parcel loss and theft problems.
To other nations worldwide, we ship via insured priority post or UPS; please make your selection at checkout. Do note that this camera, packed, is too heavy for first class post.
Sold as-is, as described, as a collection / display item. No warranty due to age.
We have over 50 years' experience with photo equipment ... Please check our feedback and buy with confidence!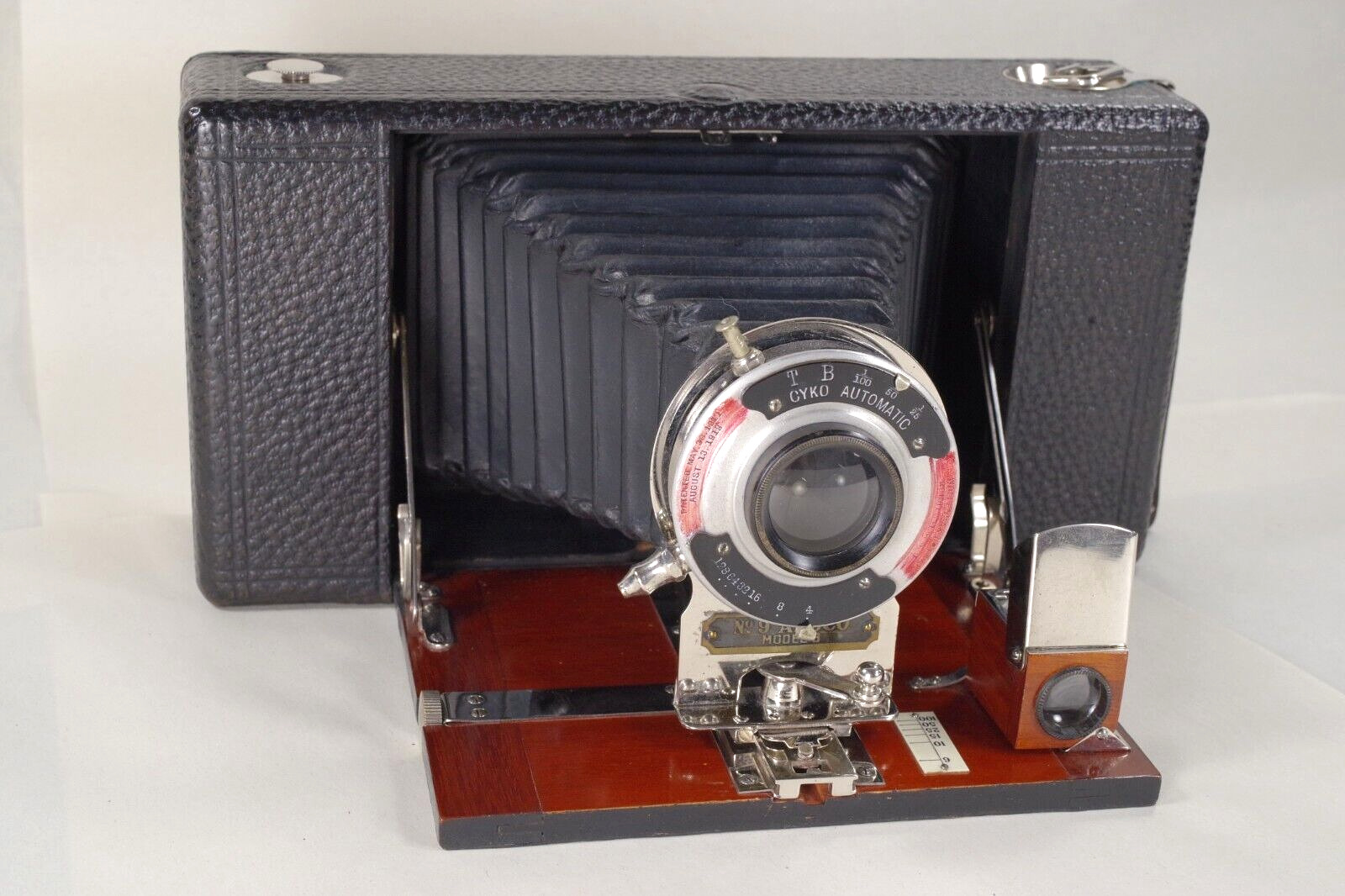 To bid on or purchase this item click here.