NyoGel 760G 50g (1.76oz) Tube Synthetic Flashlight Lubricant grease Made in USA

Current Price:

19.99 USD

Click here to purcahse on eBay.
NyoGel 760G 50g (1.76oz) Tube Synthetic Flashlight Lubricant grease Made in USA
This listing is for one brand new 50g (1.76oz) tube of NyoGel 760G Lubricant. The Nyogel 760G is made in USA by Nye Lubricants, and is packaged in a high quality plastic squeeze tube by EDC Plus.
NyoGel is excellent on Flashlights and is the Lubricant of choice by several large flashlight companies including SureFire and Maglite. It is best applied to the flashlight threads and O-rings of metal bodied flashlights (bare or anodized). This 50g jar is typically good for hundreds of average flashlight applications and will last a long time!

NyoGel 760G is also used in many industrial applications to protect electrical components from corrosion and extending the life of the contacts.
Interested in buying in bulk? We can offer much larger jars and pails as well! Contact us for better pricing!
Manufacturer Description and Specifications:
NyoGel® 760G is a silica thickened, medium viscosity, synthetic hydrocarbon grease for lubrication and protection of tin-lead electrical connectors. Benefits include good water resistance. By preventing environmental and fretting corrosion, it extends the life of electrical contacts.
Copper Deactivator, UV Tracer.
Recommended Service Range: -40 to 135C
Thickener: Silica
Base Oil: Polyalphaolefin
Kinemtic Viscosity 100C 39.4cSt, 40C 400 cSt
Viscosity Index: 147
Pour Point: -36C
Color & Appearance: Clear
Oil Seperation: 1.5% @ 100C @ 24hrs
Evaporation: 0.3% @ 100C @ 24hrs
Fast Free Shipping (USA Only!)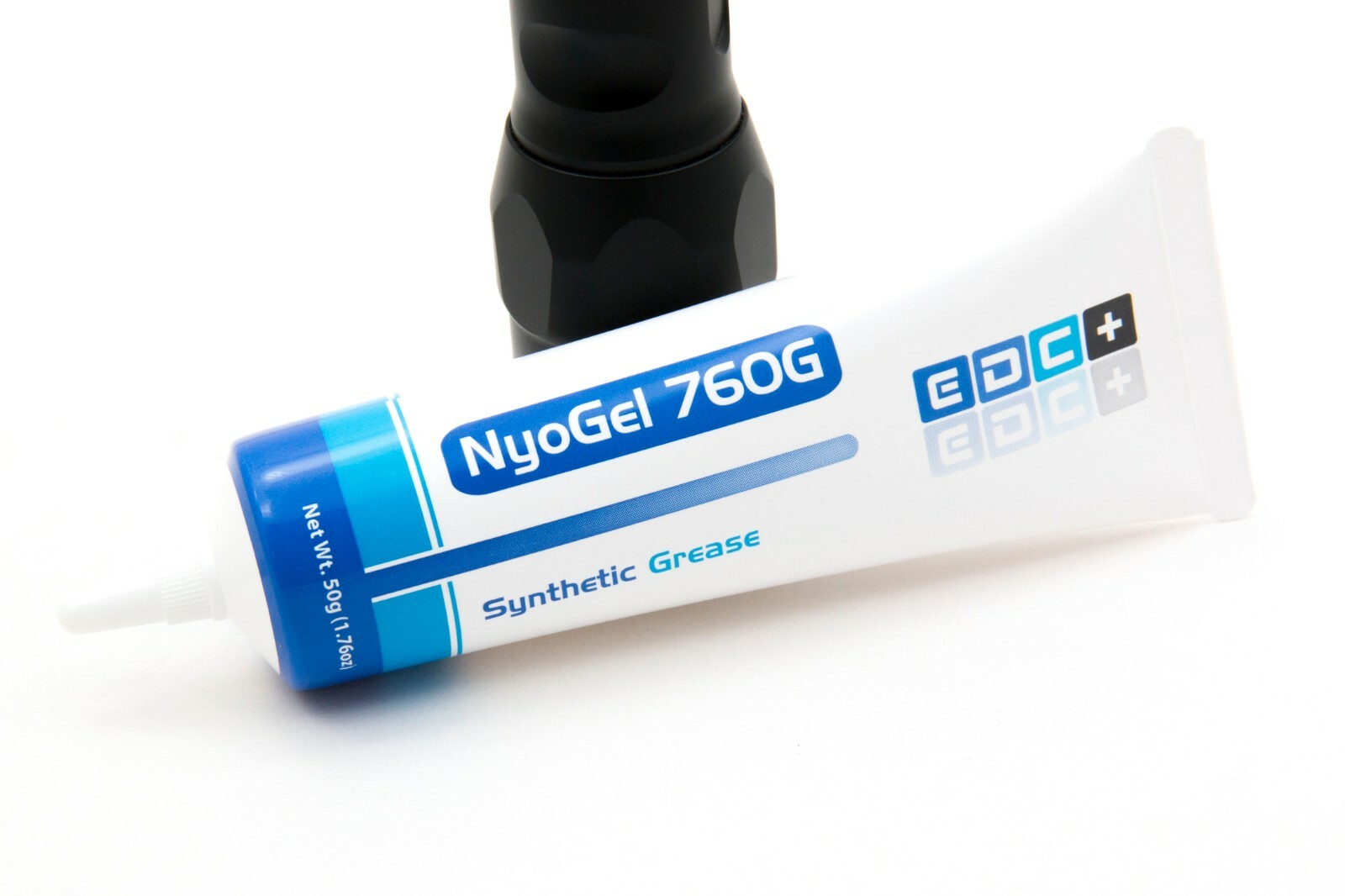 To bid on or purchase this item click here.