Ideal Toni Dolls Vintage Made in USA Toy Lot Chair Blonde & Brunette w/ Teeth!

Current Price:

24.99 USD

Click here to purcahse on eBay.
LISTING DESCRIPTION: A 4Pc Lot of 3 Vintage Ideal Toni Doll Items, Including 2 Ideal Toni Dolls & A Wood Doll Rocking Chair with Green Print Fabric. One Doll Fully Dressed in Red Tank Dress and Long White Underwear. The Other Has No Clothing. One Stand Included.
Made in the USA, Ideal Toni is "the ideal doll you can shampoo and play wave!". They have "Magic Nylon Hair" that can be styled and curled!
INCLUDED:
Curly Dirty Blonde, Blue Eyed Girl with Red Midi Length Ruffled Hemline Polka Dot Dress and White Under Garments. Articulated, Rotating or Turning Head, & Eyes that Open & Close. Rosie Cheeks & Red Lips with Thin Eyebrows.
Long Brunette, Blue Eyed Girl with Teeth Showing (which seems to be pretty rare). Eyes Open & Close. Articulated. Red Lips & Rosy Cheeks.
Dark Wood Doll Rocker, Rocking Chair with Lime Green Geo Line Print Cushion & Pull Out Wood Storage Drawer with Metal Round Handle Under Seating.
One Doll Stand
Clothing on One (Blonde) Doll.
Doll Dimensions: Approx. 14 in. x 6 in. x 3.5 in.
CONDITION: items in used, working, undamaged, clean, preowned condition. No major defects or serious visible flaws. There is one small paint chipped area on the right side of the neck on brunette doll (see image two). Also some fine lines that kind of look like pencil marks, but I think that's from the paint age and it doesn't show up on camera. Knick on interior, inside of left chair leg.
*ALL items sold here are THOROUGHLY cleaned, esp. childrens toys, in response to the global pandemic.
RETURNS accepted within 30 days of delivery date. Buyer paid return shipping with a few exceptions.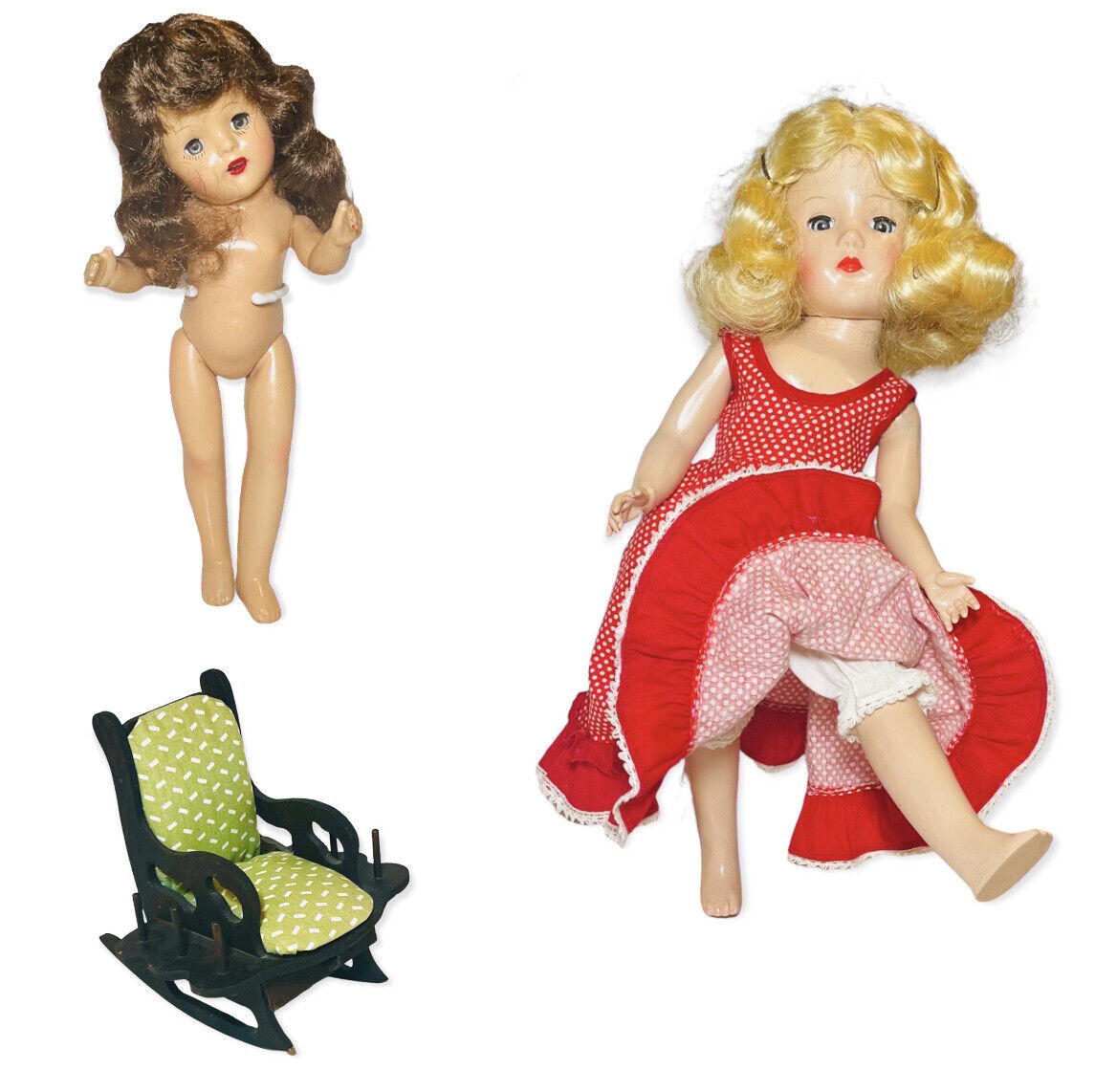 To bid on or purchase this item click here.