USASOC/ JSOC MILSPEC-contract, Woodland Ruck, Gregory, 100% Made In USA!

USASOC/ JSOC Limited Contract Rucksack/ Backpack
Current Price:

439.00 USD

Click here to purcahse on eBay.
USASOC/ JSOC Contracted, Woodland Ruck, Gregory 100% Made In USA! (MESSAGE ME FOR MORE PICTURES)
This ruck was made in limited contract for SOCOM/ SOF/JSOC procurement demands by Gregory USA. This ruck IS THE MOST COMFORTABLE RUCK I HAVE EVER USED (and I have used many, from the ALICE to Mystery Ranch, Eberlestock, London Bridge, Eagle, 5:11, PARACLETE etc.). This ruck is also the most rugged, well-thought-out ruck I have ever come in contact with (yes, better than any of the fore-mentioned brands)! This ruck is used, but in 100% EXCELLENT condition, there are NO deformities I can find (I thoroughly went through the ENTIRE ruck) from when it was new! There are VERY slight indications the ruck has been handled, but again no deformities that I can find. This ruck used by me on maybe 3 or 4 ADMIN ruck-marches for physical training (PT). The CAMO pattern just did not work for SW Asia/ Middle East terrain.
· It is 100% woodland 915 Cordura fabric.
· Each side of the ruck has 9 PALLS/ MOLLE webbing strips, the front has 4 MOLLE/ PALLS strips all with heavy-weight webbing
· Ruck has a full-length interior waterproof pouch, made of US Navy-SPEC PVC rubber (I have NEVER seen this in ANY other brand. All of the saddle bags have PVC liners in the rear of the pouches as well) for a radio or gear that needs to stay dry
· Plenty of room for large hydration bladder as well, with quick-connect bladder hangers!
· There is National Molding hardware throughout ALL fitiings
· The shoulder-straps and kidney buckles have fast-adjusted pull tabs on both sides
· The shoulder straps have MILSPEC quick-release button-tabs
· The kidney-belt is reinforced with heavy duty flexible PVC plastic; it stays on the hips (this makes a HUGE difference!)
The internal-frame is a

poly-flex panel with reinforcing strips

There is VERY generous

neoprene-padded shoulder-straps and kidney-pads
· There is an ergonomic lumbar-support pad (neoprene)
· There is also a full-length internal space for packing a ton of gear (running separate/ parallel to the water-proof full-length compartment)!
· The main pack measures 30" X 18" X 9" (approx.)
· Top saddle pouch (MOLLE/ PALLS - attach) is: 8" X 8" X 4", with vertical MOLLE/ PALLS webbing
· Bottom saddle pouch (MOLLE/ PALLS - attach) is: 10"X 9" X 5", with vertical MOLLE/ PALLS webbing
· The bottom "sleeping-bag" compartment is: 20" X 10" X 10"
· All webbing stitching is double-bar-tack sewn!
· The bottom is made of heavy-duty PVC (Navy MILSPEC) W/ heavy duty PVC "drag-handles"
The zippers are a robust 1" X 3/4" body, double-feed, heavy duty/ double closure type/ (2) zippers for each application!
· There are several "cinching" straps to tighten the over-all load
· The ruck weighs about 15 LBS (APPROX) when empty
The top E&E pack is removable!
There are 2 drinking-tube pass-throughs at the top of the "cinch-cord" rain closure area
There are "pass-throughs" on each side for skis/ long items or even a rifle!
The list can go on for a while, suffice it to say you WILL NOT find a better-made (in the USA) MILSPEC Special-Operations ruck, PERIOD, and I speak from experience! Why pay $580.00 to $900.00 + for a SOF/ military SPEC contracted ruck (see Mystery Ranch), when you can have a BETTER option for a much better price? (MESSAGE ME FOR MORE PICTURES, I will try and accomidate, thanks!)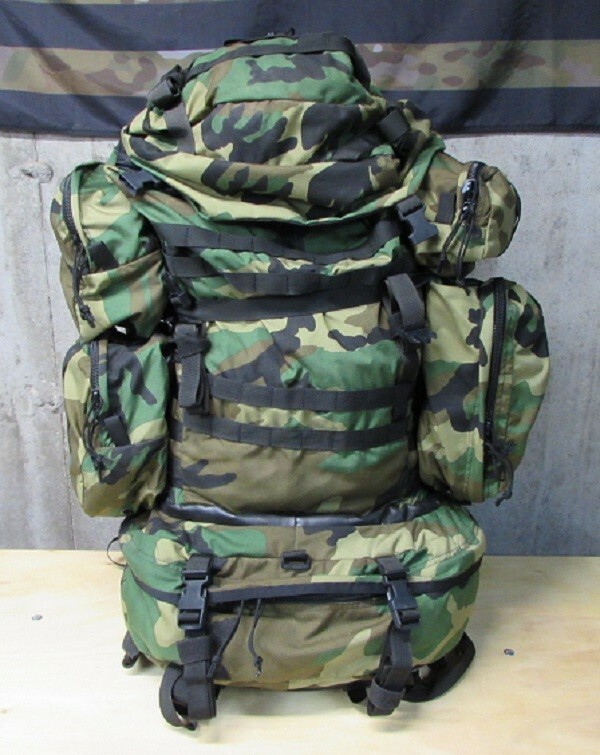 To bid on or purchase this item click here.