10 pair HEEL PLATES by ATLAS 3M Shoe Tap MADE IN USA! Heel PROTECTORS 20 w/Nails

Current Price:

15.99 USD

Click here to purcahse on eBay.



ATLAS 3M

HEEL OR TOE PLATES / TAPS


20 PLATES / TAPS (10 PAIR)


WITH NAILS


ANY SIZE
PLEASE CHOOSE THE SIZE YOU WANT FROM THE DROP DOWN MENU ABOVE


THIS IS NOT A VARIETY SET OF PLATES

Sizes Available:

#2 - 1"

#3 - 1 1/4"


#4 - 1 3/4"


#5 - 2 1/8"


or #6A - 2 3/8" (Jumbo)

ABOUT THE NAILS:

WE ONLY USE "CLINCHING" NAILS AND THE SIZE OF YOUR NAIL WILL BE SUITABLE FOR YOUR PLATE SIZE SELECTION. A CLINCHING NAIL IS A SPECIALTY HEEL PLATE NAIL AND IS A SHARP NAIL WITH A BARBED TYPE TIP THAT BENDS BACK INWARD WHEN NAILED INTO THE SOLE. THIS "CLINCHING" ACTION GIVES A TIGHT HOLD AND THE SHAPE AND SHARPNESS OF THIS NAIL MAKES INSTALLATION VERY SMOOTH AND EASY. WE DO NOT OFFER OR RECOMMEND THREADED NAILS WITH NYLON PLATES BECAUSE THEY ARE NOT NECESSARY ON A NYLON PLATE AND ARE MORE DIFFICULT TO INSTALL, (ESPECIALLY FOR NON-PROFESSIONALS). THEY ALSO WILL NOT BEND BACK INWARD AND ARE MORE LIKELY TO RESULT IN NAIL "POKE-THROUGH" INTO THE INSIDE OF THE HEEL. WE ONLY RECOMMEND USING THREADED NAILS WITH METAL PLATES.





Also known as the "quiet tap". Long lasting nylon plates improve the wear of your shoes or boots and make no noise when you walk.


NON - MARKING


(will not leave black marks on the floor).

Easy peel-off, self adhesive backing


These plates can be used as heel or toe plates / taps. A smaller size is generally used on the front and a larger size on the back. These plates are professional quality and are the same plates you will receive in a shoe repair shop, but they are perfect for those that like to do their own home shoe repair.

Heel and toe plates work best on leather soled shoes. Although they can be successfully attached to very hard rubber soled shoes, they usually will not attach well and we cannot guarantee proper attachment of the plates if used on rubber or other soft soled shoes.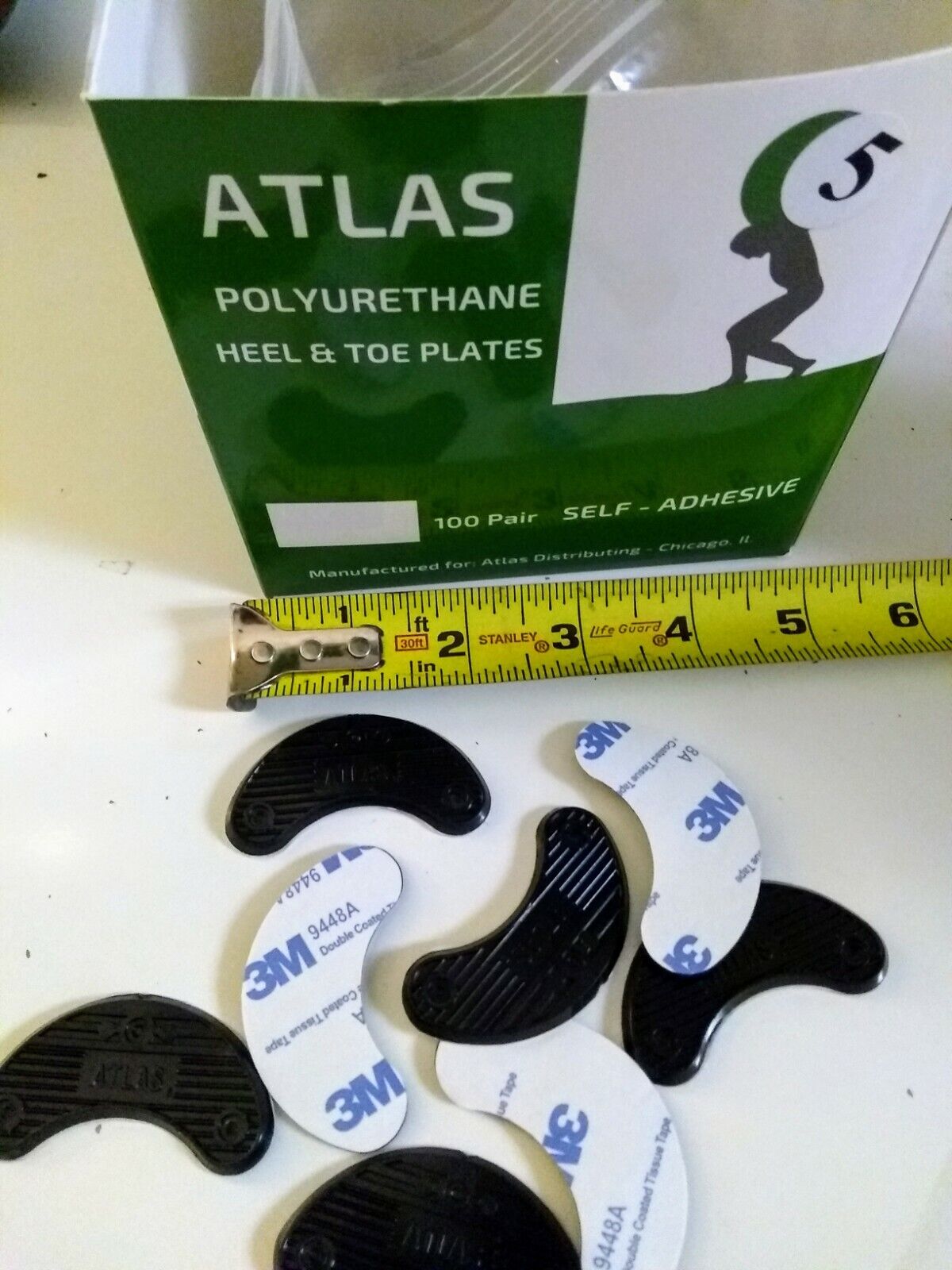 To bid on or purchase this item click here.