Upcycled Levis Denim Jacket | 50+ Hand Sewn Patches | Girls Junior Medium

Current Price:

300.00 USD

Click here to purcahse on eBay.
Upcycled Levi's Denim Jacket with about 50 Hand Sewn Patches.
Size Medium Jr.
Functional Pockets.
Top Collar to Bottom.
23 inches
Chest.
16" - 17" inches
Sleeve from Armpit.
19" inches.
It's never been worn actually but I washed it dryed it before I started sewing patches on it.
The patches are all hand sewn even though the patches are iron on patches. So you can cleanly unstitch whichever patch on it.
The Story:
I made this for my niece that didn't want it because it's not her style...
For fun, I call it "The Demon Lover, True Crime, Horror Queen".
It's one of a kind and It's inspired by bits of horror, punk, and rockabilly aesthetics.
The patches are sort of grouped by colors and themes and not randomly placed.
Front:
Color's are red, white, black, with some yellow at the bottom.
From the Top, there is alliteration with the letter 'B'; "Betty Boop" and "Bad Bunny"
The Heart under Bad Bunny almost looks like the heart on "In Verano Sin ti" and I remember seeing a photo of him with a "Jason Hockey Mask"
Then there's "Marilyn Monroe" with her name next to her. She was a bit of a "Misfit" and a "Treasure".
There are people that treasure"Coke" and enjoys "Chemical Romance".
Then there's "Che" who was a rebel soldier; possibly a "Sgt. At Arms." Next to Che are the "Sex Pistols" and "Bullets for my Valentine".
Nirvana, Alanis Morissette, and Scream Ghostface are all from the 1990s.
Yellow Hoodie Kid is rocking to Nirvana. Plus the faces of both patches match "dopely".
Then there is Ghostface trying to Stab Alanis. Though I love Alanis and "Jagged Little Pill".
Back:
Colors are red, white, black, and green.
The look of Girl is expressing "D.I.L.L.I.G.A.F." Don't bother her and "Let her Sleep In" while people are trying to give her their hearts and roses.
Then there's Michael Myers too looking like he doesn't give a f... And usually "Death" is near when Michael is around.
Then there's "Don't Talk. Just Act" with zipped lips next to it.
"Joker" and "Chucky" are a couple of "Misfits".
Right Sleeve:
Just displaying love for Horror and True Crime.
Left Sleeve:
Has Lisa Simpson calling out The System is Wrong and to "No Start Wars" spelled out using the "Star Wars Logo".
Under that are the "Anarchy", "Peace was never an Option Chick with Knife", and the "This is Fine" World Burning patch.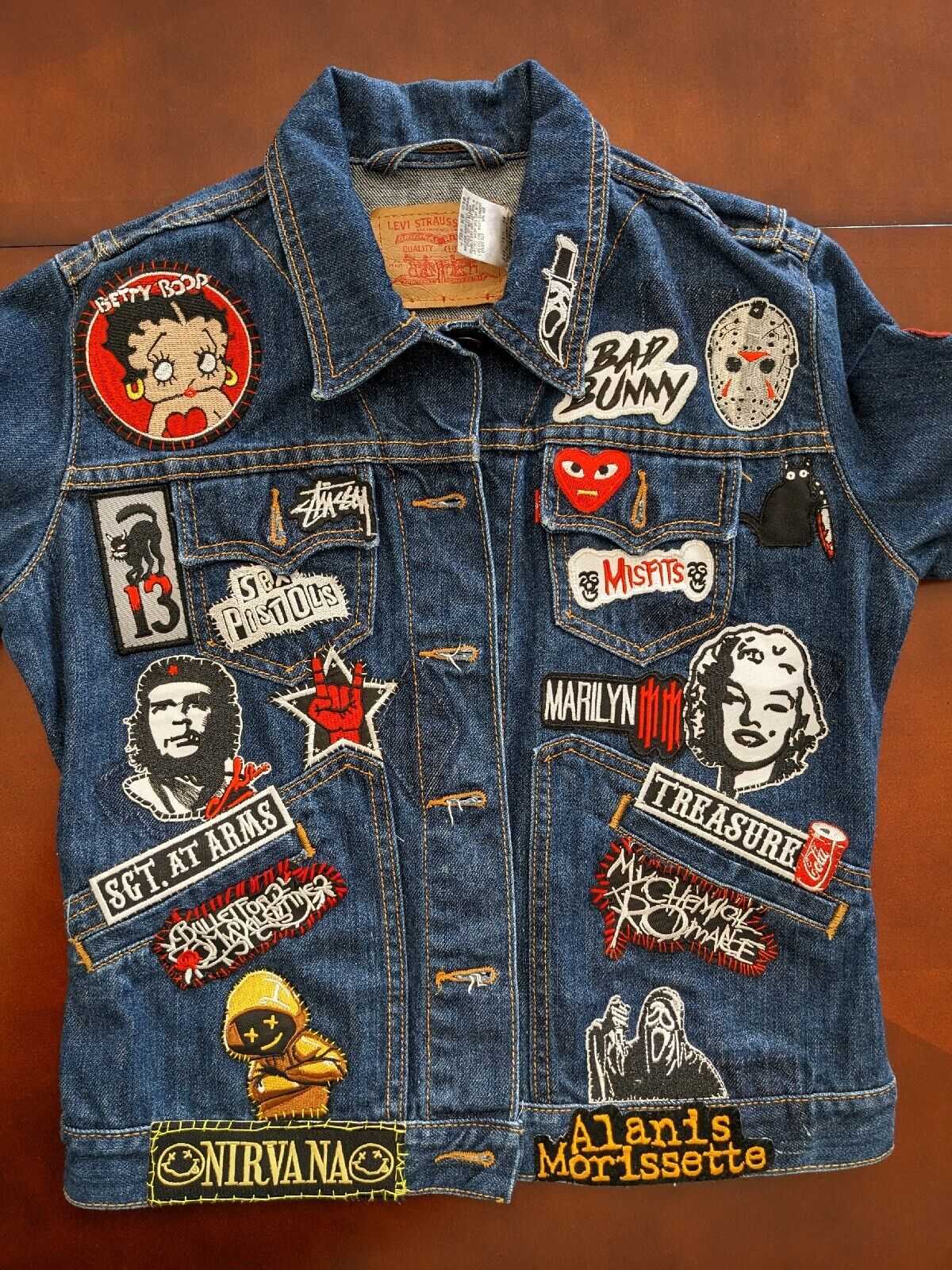 To bid on or purchase this item click here.