Re Play Made in USA 10 Oz. Sippy Cups for Toddlers, Pack of 4 - Reusable Spil...

Current Price:

29.47 USD

Click here to purcahse on eBay.



Re-Play Recycled colorful no-spill cups are the perfect sippy cups for kids on the go!

All Re-Play No-Spill cups are made from FDA approved sustainable HDPE recycled plastic. Not only are they better for your child, they are better for your environment!

The one piece, easy clean silicone valve keeps your toddler's milk or juice leak-free.  

Includes: 3 No Spill Cups made in the USA with Silicone Valves (valves are imported)

Tested Dishwasher and Microwave Safe**

Note: All of our products are shipped direct from our warehouse to your home. Because of this, we do not use our standard retail packaging usually seen in stores to save on cost and cut down on waste.

**While safe for the Microwave, we do not recommend it due to the possibility of staining and hot spots in the food - should you choose to Microwave we do not warranty against staining.

The Re-Play logo is embossed on each product face, ensuring you are purchasing authentic Made in the USA products.


No Spill Sippy Cups for Toddlers: Featuring a one-piece silicone valve that prevents leaks and spills, our sippy cups give parents peace of mind while toddlers explore independent drinking
Exceptional Durability: Made from thick, hard-textured plastic, these toddler sippy cups withstand the rigors of toddlerhood, ensuring they stay break-proof even during the most energetic playtimes
Easy to Maintain: Our leak proof sippy cups for toddlers can easily be cleaned in the dishwasher, along with the silicone valve, for a thorough and convenient wash, making cleanups a breeze
Space Saving Cups: Say goodbye to clutter with these stackable toddler drinking cups, which optimize storage space and keep your kitchen organized, ensuring a tidier and more efficient living space
Sustainable and Reliable: Re Play's spill proof cups for toddlers are made in the USA from recycled milk jugs, making a positive contribution to a more sustainable environment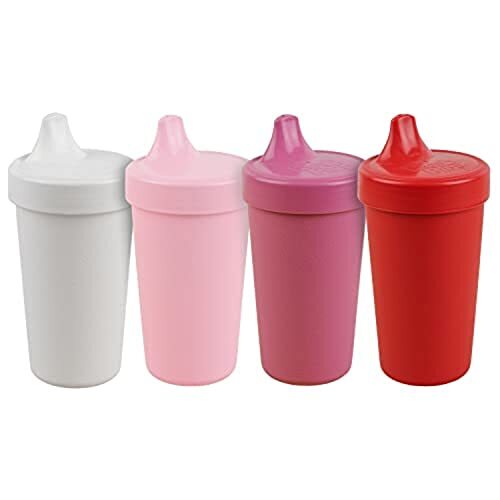 To bid on or purchase this item click here.